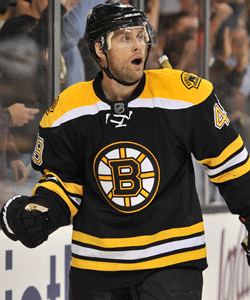 The Bruins have a lot of players to try and re-sign before next season, so GM Peter Chiarelli got started early with Rich Peverley. The B's inked the 29-year-old forward to a three-year contract on Tuesday, giving him a healthy raise to #3.25 million annually.
Peverley, set to become an unrestricted free agent after this season, will make $1.325 million this season before the new deal kicks in.
Peverley was acquired by the Bruins before the trade deadline last season in a deal with Atlanta/Winnipeg. along with Boris Valabik for Blake Wheeler and Mark Stuart. In 23 games with Boston, he had four goals and three assists. He picks up the numbers a little in the postseason when he had four goals and eight assists in 25 games. This season he is off to a nice start, scoring two goals in the first three games for Boston.
Chiarelli had a nice luxury last offseason, being able to largely sit back and enjoy his team's championship. There was little to do with almost every under contract except re-sign Brad Marchand. Next summer will be a different story though as David Krejci, Chris Kelly, Gregory Campbell, Benoit Pouliot, Daniel Paille, Shawn Thornton, Joe Corvo, Johnny Boychuk and Tuukka Rask all are in the final years of their contracts.
Peverley has proven to be a quality addition to Boston's second line. He brings a lot of speed to a team that could benefit from some. That has helped him to establish himself as a guy capable of routinely putting up 20 goals per season or more. His career high was 22 with the Thrashers.
It's a nice deal for Peverley, who is getting a raise he deserves and is probably the biggest unrestricted free agent the Bruins have.
Photo: Getty Images
For more hockey news, rumors and analysis, follow @EyeOnHockey and @BrianStubitsNHL on Twitter.