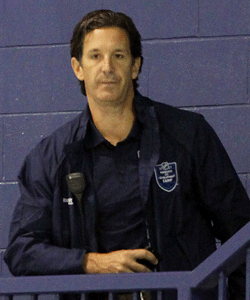 Have you noticed things have been a lot quieter on the Brendan Shanahan front lately? After going crazy in the preseason, there has only been one suspension handed out since the season began, and it wasn't even for a hit to the head or boarding, but instead for Marc-Pierre Bouchard's stick to Matt Calvert's face.
So is that the result of the alleged complaints from some general managers to commissioner Gary Bettman directed at Shanahan's tough love? Shanahan told the Globe and Mail that he isn't feeling any heat whatsoever (he must have the thickest of thick skins to not have felt any pressure from the hockey world, but I digress) but instead it's players wising up.
"The fact we haven't had any [suspensions] in a week, to me it speaks to the players, to their ability to adapt and make changes," he said Wednesday. "People can report what they want on TV but I felt no internal pressure to make any changes [in player discipline]. My commitment is the same as it's always been."
Shanahan and NHL Deputy Chairman Bill Daly both went on to say that they had not received a large amount of criticism from GMs. Obviously that's all up to interpretation. What defines a large amount? Did the GMs just share their beef with Bettman, who let it die there? Who knows.
What I do know, however, is that while the debate has raged on through such portals of wisdom as Don Cherry and Mike Milbury, this hasn't been a league-wide epidemic or anything like that. Everybody was put into a tizzy with the preseason gone Wild, but matters have stabilized. Who knows what the real reason for that is, but the number of glaringly obvious illegal shots have undoubtedly gone down.
Photo: Getty Images
For more hockey news, rumors and analysis, follow @EyeOnHockey and @BrianStubitsNHL on Twitter.