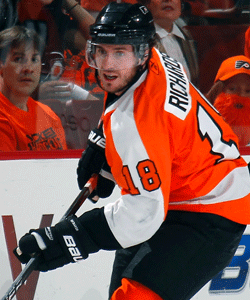 Mike Richards the hockey player basically grew up in Philadelphia. He was the centerpiece around which the Flyers were built, their captain by the time he was 23 years old. The next Bobby Clarke, they dubbed him.
Then came last summer, when he was unceremoniously shipped out of town like a package at FedEx. The Flyers had seen the light, and that was the importance of goaltending and defense.
As a result, Richards and his $69 million contract that took effect in 2008-09 were sent to Los Angeles for Wayne Simmonds, Brayden Schenn and cap flexibility. On Saturday night, he'll return to Philly a King. Funny enough, he's back in Philadelphia for a game before even playing in his new home in L.A.
Inquiring minds want to know; what will it be like returning to an arena he once called home, just now as a visitor?
"I try not to think about it as much as possible," Richards said after Thursday's morning skate before the Kings' 2-1 shootout loss to the Devils. "It will be an exciting night once I get there.
"I expect to be nervous. I think that being on the opposite side playing against a lot of great friends ... I spent a lot of time there, a lot of great friends. It was an organization that game me an opportunity to come in the league. I think it's going to be nice to get it over with and turn the page."
Not to mention it's a pretty darn good game, too. Richards just adds some extra theater to it. But when we are looking at the matchup at hand, we have two genuine Stanley Cup contenders here. Los Angeles received one vote to represent the West from the CBSSports.com preseason picks. With Richards' addition, they have two All-Star worthy centers to go with a good young defense.
Philadelphia didn't have as many believers beore the season began, but that was just because nobody truly knew what to expect. If early returns are any indication, however, shipping Richards and fellow young star Jeff Carter (to Columbus) seems to have put in motion a great base behind goaltender Ilya Bryzgalov. The Flyers are 3-0-0 and have only surrendered five goals.
So yes, from a hockey standpoint, it's a marquee matchup. There's plenty of intrigue from that standpoint alone. But the homecoming King who scored 133 goals and 350 points in a Flyers sweater is the focal point.
"When you think of Mike Richards you think of Philadelphia, so this is certainly a big event for him and for the fans," Kings assistant coach John Stevens said.
You never can be sure with the notorious Philadelphia fans, but I'd expect to see a king's welcome (seriously, that pun wasn't intended) for Richards, at least at first. Once he scores or assists on any L.A. goal, they will treat him the same as any other opponent.
"I enjoyed playing in front of them every night and was excited to play in front of them," he said. "And I will be excited to play in front of them on Saturday."
Homeward bound
There are still seven teams that have yet to play their home-openers, but a few will finally take to the home ice this weekend. The Sabres will return to Buffalo to face the Carolina Hurricanes on Friday night after a very successful trip to Europe. The city is so jacked up for Sabres hockey right now, that place (who knows what name the arena is going by now?) will be rocking.
Anaheim is also back Stateside after exploring Europe. The Ducks host the Sharks, who have somehow only played one game up to this point.
The Florida Panthers will debut their new all-red arena (and their red jerseys) against the instrastate rival Lightning on Saturday night. The two will play a home-and-home that concludes on Monday with the Bolts showing off their revamped arena for the first time.
The New York Rangers and Kings will remain as road warriors for a bit longer. L.A. doesn't return home until the 18th while New York is traveling all the way until October. 27 when it hosts Toronto at a slightly renovated Madison Square Garden.
Jets past and present
The one other team that has yet to play a game in front of the home crowd, Phoenix, will do so on Saturday. It should be interesting, too.
The Coyotes will host the Jets in what is instantly an awkward rivalry. It sort of feels like domestic abuse. The former Jets who are now the Coyotes meet the current Jets who were once the Thrashers. There is no real animosity to speak of between the two teams, but a lot of folks in the 'Peg still hold a grudge against the Coyotes, even if they have a team back to help close that wound.
Here's the oddity of the weekend: Shane Doan will play against his former team even though he has never left the organization that drafted him. Huh? Of course we're taking some liberties with relocation here, but Doan is originally a Jet, playing 74 games in Winnipeg before moving to Phoenix and becoming a career Coyote.
S-A-T-U-R-D-A-Y night!
You just have to love Saturday's in the NHL. You are almost always guaranteed your favorite team will be playing, but if not, you will have plenty of other games to choose from. This Saturday, 28 of the league's 30 teams will be in action.
Only the Hurricanes and the Ducks have the night off.
Still standing
There are still are still six teams in the NHL that have yet to lose (yes, I'm counting OT losses as losses, imagine that). The Flyers, Sabres, Maple Leafs, Capitals, Red Wings and Sharks all remain unblemished. In the case of the Sharks and Sabres, they'll have to do double duty to remain perfect come Monday.
Best chance for a loss? Have to think it's Buffalo in Pittsburgh with Detroit visiting the Wild next on the list.
On the flip side
Of course, there are still some teams looking for a win, too. The Rangers, Jets and Blue Jackets are yet to experience the thrill of victory. In the case of the Jets, they remain pointless going into the weekend.
Fun with numbers
Small sample sizes create fun little stats such as James Neal of the Penguins leading the NHL in goals (with four in five games), the Senators' Erik Karlsson ahead in assists with six and the Predators' David Legwand in front for points at seven. Even with the small sample size distorting things, did anybody foresee a Predator near the top of an offensive category?
Photo: Getty Images
For more hockey news, rumors and analysis, follow @EyeOnHockey and @BrianStubitsNHL on Twitter.