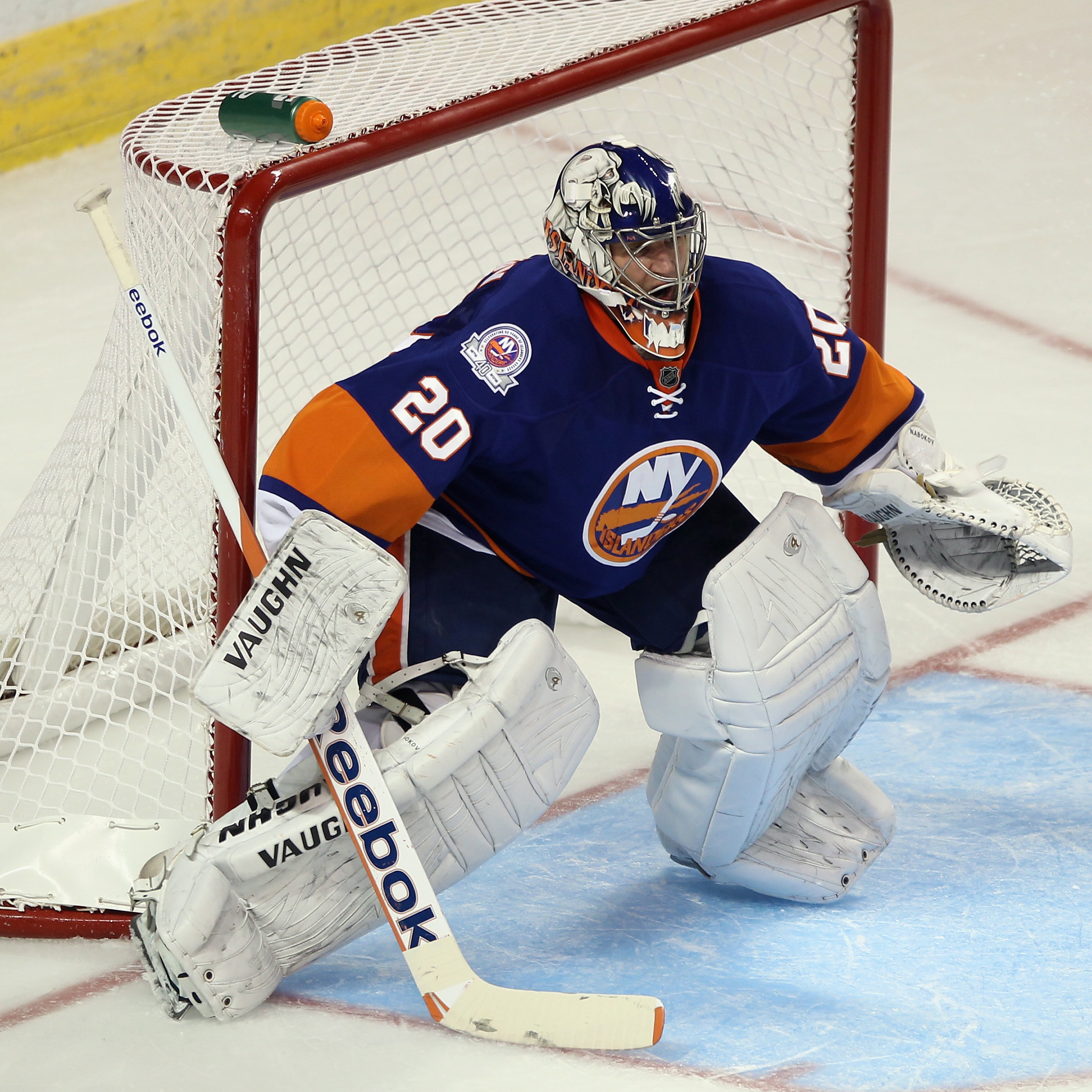 By: Adam Gretz
Even though
Al Montoya
played extremely well through the first three games of the season for the New York
Islanders
, picking up where he left off in the second half of last season, it will be
Evgeni Nabokov
, and not Montoya,
getting the start in net on Saturday night
against the New York
Rangers
.
It will be Nabokov's first regular season appearance for the Islanders after being claimed on waivers last season, and his first appearance in a regular season NHL game since April 10, 2010, when he stopped 27 shots as a member of the San Jose
Sharks
in a shootout win against the Phoenix
Coyotes
. His last NHL appearance was a playoff game against Chicago in May, 2010.
If you're not familiar with Nabokov's journey to this point, a brief summary: after spending a decade with the Sharks, he signed a four-year contract in the KHL following the 2009-10 season to play with SKA St. Petersburg. The two sides mutually parted ways just months into the first year of the contract, and Nabokov attempted to return to the NHL by signing a one-year deal with the
Red Wings
. Because he had already played in Russia during the season he had to clear waivers, where the Islanders eventually claimed him. Nabokov didn't report to the team until this season.
And that brings us to today. Given that he's 36 and hasn't played in a real NHL game in a year-and-a-half it's obviously a mystery as to how much rust he'll have to shake off when pucks start flying at him. He did play for the Islanders during the preseason, but it's difficult to get any sort of read based on that, not only because it's such a small sampling of games, but also because the level of competition isn't what he'll be facing (or playing behind) on Saturday.
Nabokov has spent the Islanders' first three games sitting behind Montoya, who posted a 2-1 record and a .953 save percentage, allowing just four goals on the 85 shots he faced. Still, most NHL teams like to get their No. 2 goalie a start early in the season. After Saturday's game the Islanders don't play again until Thursday.
On Friday it was reported the Islanders other goalie,
Rick DiPietro
,
would be sidelined indefinitely due to a concussion
.
Photo: Getty Images
For more hockey news, rumors and analysis, follow @EyeOnHockey and @agretz on Twitter.