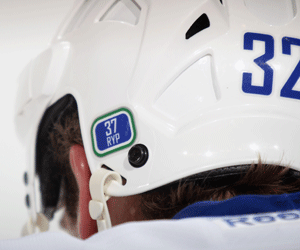 Tuesday night will be a very emotional one in Vancouver as the Canucks will pay tribute to Rick Rypien in their game against the Rangers. A pregame ceremony, "Heart of a Canuck," will be held and will be streamed live on the team's website.
It will be tough on everybody, all the players, but maybe none more than Vancouver defenseman Kevin Bieksa. For him, Rypien was a brother, the two growing a very close bond going back to their days with the Manitoba Moose.
Bieksa opened up about his relationship with the late Rypien to the Vancouver Sun. This is one of those stories where, as long as you have a heart, tugs at the old heart strings. I'd suggest you read the entire story.
Bieksa was one of the few that knew about Rypien's issues with depression. He kept that a secret, though, never even telling his teammates when asked how Rick was doing.

Bieksa never betrayed Rypien's trust, even to caring teammates who inquired about Rypien's well-being. The Canucks organization knew about Rypien's depression since that 2008 camp and coordinated the player's treatment.

Bieksa and his wife, Katie, helped as much as anyone.

While sitting out the rest of the 2008-09 regular season, Rypien stayed with the Bieksas.

"My wife stayed up to five in the morning talking to him every night," Kevin said. "We did what we could. . . just tried to get him through this. He loved hockey, loved coming to the rink. I remember him saying he just missed sitting in the dressing room and listening to guys chirping Hordy (ex-Canuck Darcy Hordichuk). Things like that. Those were the things he enjoyed, the camaraderie. He didn't like to be alone."

Bieksa said Rypien was with him when Kevin asked Wes Jr. to be his best man, and even knew before Kevin did that he was going to be a new dad again because the Canucks were on the road when Rick finally asked Katie why she kept throwing up.

"He knew before I did," Kevin smiled. Cole Bieksa is nearly four, and his little sister Reese is two.
Bieksa continued to say Rypien loved what he did and his depression went way beyond anything to do with fighting.
Bieksa is emphatic that Rypien loved his role in hockey and fighting had nothing to do with his mental challenges. He said Rypien's illness was too complicated to be explained by one event or circumstance, such as the car-accident death nearly a decade ago of Rypien's girlfriend or the constant stream of injuries that slowed his NHL career.

"There were a lot of things going on," Bieksa said. "I felt he was as much my responsibility as anybody's. Looking back now, I wished I'd talked to him a little more in the summer. I thought he was getting better. I knew the severity of it [but] I don't think anyone really thought this would happen."
It will undoubtedly be a tough night for the Canucks. Playing with heavy hearts is never easy to do. Canucks coach Alain Vigneault, who coached Rypien in Manitoba as well as Vancouver, said the powerful tribute video will make for "a challenging" night as the tragedy is "still tough to deal with."
The remembrances have already begun for the former Canucks player who committed suicide this summer after signing with the Winnipeg Jets. There are memorials to Rypien on the Canucks website like this.
The Canucks have also made a $50,000 donation to jumpstart a a partnership with B.C. Children's Hospital in its foundation to build mental health awareness.
"Rick Rypien was dedicated to helping young people and those in need," said T.C. Carling, Executive Director, Canucks for Kids Fund. "Through this partnership with BCCHF, BCMHAS and the support of the Vancouver Canucks we can work together to ensure Rick's passion to help those in need is well served."
Here is an example of some of the tributes the Canucks have already made. Here Trevor Linden talks about Rypien as a friend and a player.
Photo: Getty Images
For more hockey news, rumors and analysis, follow @EyeOnHockey and @BrianStubitsNHL on Twitter.