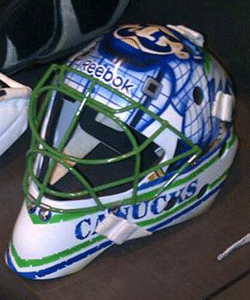 I would like to call Roberto Luongo's relationship with the Vancouver faithful a love-hate one, but right now, it's mostly just hate.
In the past, you couldn't quite tell if the crowd was erupting into a chrous of "LUUUUU" or "BOOOOO." These days it's pretty easy, they're just boos.
"The good thing is it has happened so many times, I've gotten used to it," Luongo told the Vancouver Sun. "It really doesn't affect me anymore. A fan pays for their ticket and comes to the game and they have a right to boo if they want to."
Despite being a Vezina finalist last season, Luongo drew the ire of Canucks fans by struggling early in the playoffs. Since then he hasn't really returned to their good graces. Part of the problem is that 3.70 goals against average and .856 save percentage so far this season.
Who is in the fans' favor, however, is the backup Cory Schneider. Just like they say in football, the backup quarterback is sometimes the most popular man in town. That applies to Schneider, who is one of the best backups in the league. And he still has Luongo's back.
"For a guy who has done more for this franchise than any other goalie probably in the history of the team, you'd think he'd get a bit of slack or some more leeway before they really get on him," Schneider said. ""He's a top-three, top-five goalie in this league. I know he's not playing like that right now. He knows that."
Well maybe the arrival of his new mask will help. As seen above, the motif is very Canuck friendly, as is the norm with Luongo's designs. This one even includes an image of Johnny Canuck.
Speaking of Mr. Canuck, he has made another video. Remember at the end of last season how he was fixin' to ruin a Bruin? Instead it was him who was ruined. Now his resolve has been strengthed by the heartbreak of last season.
Photo: Vancouver Sun
For more hockey news, rumors and analysis, follow @EyeOnHockey and @BrianStubitsNHL on Twitter.