Taking the illegal hits out of hockey can be a double-edged sword. While they need players to stop making the bad hits, there is also a little cooperation needed for players not to exaggerate on the receiving end. Diving/embellishment can undermine the effort.
That brings me to Washington Capitals forward Mathieu Perreault. During Thursday night's game at the Flyers, it appeared that Perreault took a shot toward the head that sent him flying into the air like he was shot out of a cannon.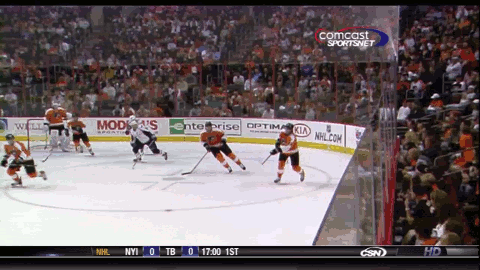 Notice Scott Hartnell moving toward Perreault after he shoots and simply gives him a little brush by. He might have initially intended to unload on Perreault, but in the end Hartnell's elbow MAY have grazed Perreault's jersey.
I am glad to say there was no penalty issued on the play to Hartnell. Unfortunately, there was also none to Perreault.
If they are going to continue to insist on removing these bad checks from the game with such stringent penalties -- the smart money says they will -- then diving will likely only increase. I hope I'm not the only one that this bothers. If it were up to me, diving would be as reviewable as bad hits. First offense is worthy of a stern lecture, beyond that punishment. There's no need for diving.
The last thing people want to see in hockey is the touch of soccer that drives everyone mad, flopping.
Video: Japer's Rink
For more hockey news, rumors and analysis, follow @EyeOnHockey and @BrianStubitsNHL on Twitter.