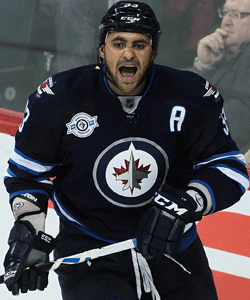 Dustin Byfuglien of the Winnipeg Jets has pleaded not guilty to the charges against him of boating while under the influence of alcohol and/or drugs.
Byfuglien was back in his home state of Minnesota over Labor Day weekend, boating on Lake Minnetonka when the arrest occurred. Byfuglien did pass the breathalyzer test by blowing a .03, but police charged him after he struggled in the field sobriety tests. More from the CBC:
The officer wrote that based on his observations, he decided Byfuglien was under the influence of something and placed him under arrest.

Byfuglien refused to give a blood or urine sample, so he was examined by a police drug recognition expert. Byfuglien's pulse rate was high, as was his blood pressure. His eyes were watery and he had a distinct brown stain on his tongue, according to the expert.

"He formed the opinion that Mr. Byfuglien was under the influence of a controlled substance and was unable to safely operate a watercraft," the court papers say.
He has a pre-trial hearing set for Feb. 2. The Jets will be in the midst of a six-game road trip at the time and are scheduled to be in Tampa Bay on the 2nd then at Florida on the 3rd.
Photo: Getty Images
For more hockey news, rumors and analysis, follow @EyeOnHockey and @BrianStubitsNHL on Twitter.