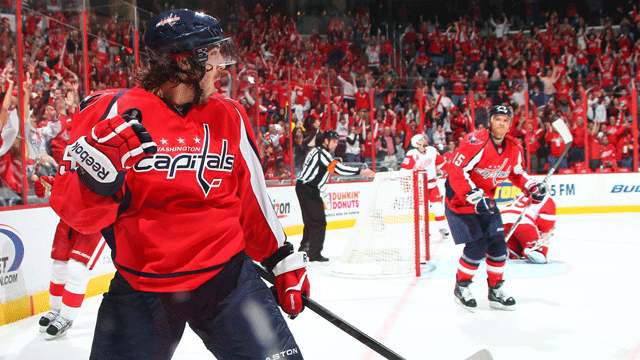 WASHINGTON -- How much do you read into a 7-0 start? Not much other than a team is playing well to start the year.
But what can you read from the Capitals' 7-0 start to the season after a 7-1 rout of the previously unbeaten Detroit Red Wings on Saturday night? Maybe they're more than just hype. This performance is what you can call a statement win. On the heels of a very solid win in Philadelphia?
There is a lot to like. Let me count the ways.
Mike Green is beginning to resemble the player we came to know a few years ago. He tied a career high with four points Saturday, including both Capitals goal on the man advantage.
His presence was a large reason why the Capitals power play is looking lethal again. Sharp, crisp passes and Green firing on net from the point?
"If we could go 2 for 4 every night, we'd take it," coach Bruce Boudreau said.
He isn't alone in the puck-moving duties. A healthy Dennis Wideman has been huge in that department. With an assist here, he has a point in each of Washington's seven games thus far. That ties a career high (noticing a trend?). John Karlson ain't too shabby either.
Their lineup has balance and depth. Marcus Johansson, who was a healthy scratch on opening night, is tied for the team lead in goals with four, including a goal against Detroit. Matthieu Perreault, himself a scratch on a couple occasions, scored twice to bring his total to three on the season. Overall, 14 different Capitals made their way on to the score sheet against the Red Wings -- 14!
"It shows that we got a lot of depth and everyone can score every night," Perreault said. "It makes our team pretty tough to play against. You got to get out there with four lines ready to go every night because our four lines are ready to go every night. It feels pretty good right now."
"That shows the versatility and the depth on of this team," Troy Brouwer added. "Matty P's [Perreault] line scored two, well Matty scored two. Even our shutdown line was scoring tonight."
Players like Alexander Semin -- criticized for his playoff showings in recent years -- and Alex Ovechkin aren't carrying all of the offensive load. It's why Ovechkin's minutes are down this season and Bruce Boudreau wants to keep it that way. Johansson and Jason Chimera are the leading goal scorers so far, not Ovie, Semin or Nicklas Backstrom. Although it is worth noting that with two assists, Ovechkin might be warming up. That's points in three straight games.
They have some much-needed grit in the additions of Joel Ward and Brouwer, who had a team-high five hits Saturday. The line of Ward, Chimera and Brooks Laich -- the aforementioned shutdown line -- has been a nightmare on opposing top lines. Plus, those guys have some skill.
"It's good. That's how you win in this league," Ward said. "When you get each line scoring and in a positive manner, that's huge. That's what you need."
Oh, and there is this pretty sharp goaltender named Tomas Vokoun. He's just been OK if you find save percentages in the .960s good. Since an ugly debut, he's been lights out, allowing six goals in five games.
"It [being undefeated] feels pretty good," Vokoun said. "Obviously I am not custom to that feeling, so it's great. We work hard, we play hard and obviously we have the older talent. We are doing good things."
You are afraid to read too much into things so early in the season, but it's tough not to notice.
If we were to nitpick, though, we have to turn to the statistics. The Capitals are being outshot most nights, including 33-25 against the Red Wings on Saturday. A 28 percent shooting percentage is a little tough to repeat on most nights.
The Wings didn't put their best foot forward Saturday night, starting Ty Conklin in favor of Jimmy Howard, who played in Friday night's game. But they beat him like a drum.
"Anytime we lose it's disappointing [but] there's a lot of things as a team that we can take away from this," Conklin said. "I found a lot of ways we were really good, [but] like I said, the difference was in goal."
Tthere is no let up here. The balance is obvious just by looking at the ice time. No forward played more than 17:16 (that was Laich) and none played less than 10:20 (Perreault).
The word that comes to mind now is complete. The wholes are tough to find.
"The guys in here, it's still early in the season, we're real wrapped up and we're real excited to come into every game," Brouwer said.
"Right now we've been pretty hot and hopefully we can keep that going," Perreault said.
With so many contributors, that seems like a distinct possibility.
Photo: Getty Images
For more hockey news, rumors and analysis, follow @EyeOnHockey and @BrianStubitsNHL on Twitter.