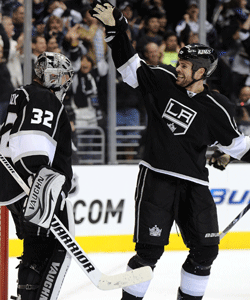 You ever notice that there seems to be 15 or 20 goalies who are described as one of the top 5 in the league? Well I'm starting to get the feeling I know of another.
In case you haven't noticed, Jonathan Quick is having himself quite a stretch in net for the Los Angeles Kings right now. He blanked the streaking Stars in a 1-0 Pacific Division battle, marking his third consecutive shutout. Going back to last Saturday's game against Philadelphia when Matt Carle beat him on the power play, that's 188:10 consecutive minutes without a goal.
If you want to make that even more impressive, the last team he was beaten with an even-strength goal? You have to go back to 13:03 of the first period against the Devils on Oct. 13. That's 286:57 straight minutes.
"Anytime a goaltender gets a shutout, everyone contributes. But you've got to give him a lot of the credit," Kings coach Terry Murray said after the win. "He's focused on the play and he's aggressive to the shots. Tonight he was again on his game, and he just followed up on the game at Phoenix and brought the same game here tonight."
A lot of attention this summer was paid to the addition of Mike Richards in Los Angeles and Drew Doughty's contract. That's all rightfully so. They were massive moves worthy of their attention.
But you can't forget about Quick. When push comes to shove, a team is usually only as good as its goalie. Look at the Bruins and Tim Thomas a season ago.
It's not like we're going off again on another small-sample size judgment parade here. Quick just posted a .918 save percentage and 2.24 goals against average last season. For his career, which consists of 186 games, he has a .914 save percentage. But streaks like this will get you noticed.
Plus, it's pretty great to have him on your Fantasy team, too (#humblebrag).
Booth dealt
When news of the David Booth to the Canucks found its way to the press box at the Verizon Center on Saturday night, the collective response was one of shock. Why on Earth would the Panthers give up Booth for Marco Sturm and Mikael Samuelsson? What was the end game for Dale Tallon?
Well, having had a little more time to digest it, I think I can at least see the rationale for Tallon. That's not to say I buy it, but I can see it.
Booth was more than sluggish to start the season. His one point in six games didn't exactly fit the profile of a player making more than $4 million per season. Considering he scored 23 goals last season and had just 40 points, the perception of him is still high considering his 31-goal season a few years back. That was also before his concussion.
So there was still some high-stock value for Booth. Any longer of a slow start and that would have gone down. But still, only Sturm and Samuelsson for Booth, Steven Reinprecht and a third-round draft pick? There has to be more.
Well, consider that obviously Sameulsson and Sturm aren't in the Panthers' long-term plans. When Tallon went on the spending spree this past summer, he signed four lines worth of NHL-caliber players to longer deals. There was no room for the Panthers to begin showing off their expansive farm system.
But with these two deals coming off the books, that's conceivably two roster spots that will be available for highly touted players like Jonathan Huberdeau and Quinton Howden to play. That could be the biggest part of all.
And for the Canucks? Well yea, the deal makes too much sense. Booth with fellow Michigander Ryan Kesler could be magic. Of course, Booth could struggle, too. It's not a completely risk-free trade, but it's close.
How to stay winless in 60 seconds
The Columbus Blue Jackets were so close they could probably taste it. Going in to the final minute against the Senators, the Jackets had the lead and seemed at least sure to get one point. That would have doubled their season total. But the real fish they were chasing was their first win.
Instead, they reminded everybody why they are the only winless team in hockey by collapsing in the final minute, giving up not one, but two goals to the Senators, including the winner with 4.7 seconds left.
"It's tough. It seems like we're not getting any bounces," Rick Nash said. "It seems like we're finding ways to lose games instead of finding ways to win games. That's the difference between good teams and bad teams right now."
The saving grace for Columbus? The team is about to get a lift. James Wisniewski will finally make his Blue Jackets debut after his eight-game suspension and Jeff Carter shouldn't be out too much longer.
Still, there is no easy treading ahead. The next seven games will come against teams above .500. At this point, they just need to get the proverbial monkey off their backs because this will only weigh on them the longer it goes.
Long season ahead
The Washington Capitals are flying sky high right now. They are off to a 7-0-0 start and D.C. is buzzing about its hockey team again. Seriously, outside of the arena before Saturday's game against the Red Wings there was a marching band which had one of the adjacent streets shut down.
After they dismantled the Wings 7-1, optimism is even higher. But that's why we have Ted Leonsis around (well that, and he kind of owns the team).
In a nutshell, here's the main message of his blog post to his Caps faithful.
It is October.

It is not how you start -- it is how you finish.

Enjoy the ride.

But don't ever get too high with the highs and too low with the lows. Thank you. Go Caps!
It's a good moment of clarity from Leonsis, to be sure. Obviously he knows all too well about the Capitals being regular-season warriors who haven't delivered in the playoffs. But I just can't help but notice a more well-rounded and dare I say better team.
Stinking up the place
Rangers coach John Tortorella was brief in his postgame interview after New York's 2-0 loss to the Oilers on Saturday night. Real brief.
I take it he wasn't too happy with his team?
Somebody who was impressed? Maple Leafs coach Ron Wilson. Not with the Rangers, but with Tortorella's postgame showing. Here is what Wilson tweeted on Sunday.
"Impressive Torts! U just set a new presser record at 16 secs. I'm going to break that record!"
Man, I can't wait for 24/7, this is going to be good.
Habs heat?
A start of 1-4-2 in Montreal? You know this is going to go well.
The Canadiens are just a little slow out of the gate. Part of that is injuries, so there's nothing to really blame there. But free-agent acquisition Erik Cole is yet to do one thing they brought him in for -- score a goal.
Montreal fans can be ruthless. They are serious about their hockey, obviously. So they were clamoring for a shakeup to the roster. So what do they get? Try a trade of Brock Trotter and a seventh-round pick to the Coyotes for Petteri Nokelainen and Garrett Stafford. I'm sure that's exactly what the Habs fans had in mind.
At the least, they expect playoff appearances in Montreal. So the longer the Habs wallow out of the gate, the more pressure coach Jacques Martin will feel.
Photo: Getty Images
For more hockey news, rumors and analysis, follow @EyeOnHockey and @BrianStubitsNHL on Twitter.