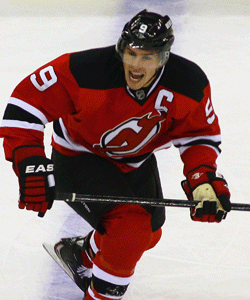 With an injury-riddled roster at the moment, the New Jersey Devils are going to try captain Zach Parise in the middle. Or maybe the Devils were impressed by the Blackhawks' similar move of their star winger Patrick Kane to center. Either way, Parise will be taking a lot more faceoffs soon.
Natural centers Travis Zajac (achilles) and Jacob Josefson (broken clavicle) are both going on the shelf, so the Devils have to do something and moving Parise to the middle is the logical choice. Parise and coach Peter DeBoer discussed it back in training camp.
"I didn't think it was going to happen this fast," Parise said of the move. "It's fine. We'll try it out and see what happens.
"I don't know if I was the only one in here who has ever played center before, so they didn't have much to choose from."
DeBoer confirmed Parise's assumptions and the fact that he has a little experience at center, albeit a couple of games a few seasons ago and with a little more regularity in before coming to the NHL.
"With Jo and Zajac both out," DeBoer said, "it's something that was sitting in the back of our minds that he's played center before.
"He's a versatile guy and he seemed like the best candidate considering the circumstances."
When the Devils took to the ice to practice on Monday, Parise found himself on a line with Ilya Kovalchuk and Nick Palmieri. It was about that time he realized somebody had to be the center, and it was probably him.
"We almost flipped a coin. I didn't know who was playing center," Kovalchuk joked. "He's one of the best players in the league. When he's that good, you just have to play your game."
The connection to Kane is a natural one. The Blackhawks moved him to start the season as they didn't feel comfortable with all the options at the position. Kane has done well, scoring two goals and four assists as well as winning 55.7 percent of his faceoffs. I'm sure the Devils would take those numbers in a heartbeat from Parise at center.
Photo: Getty Images
For more hockey news, rumors and analysis, follow @EyeOnHockey and @BrianStubitsNHL on Twitter.