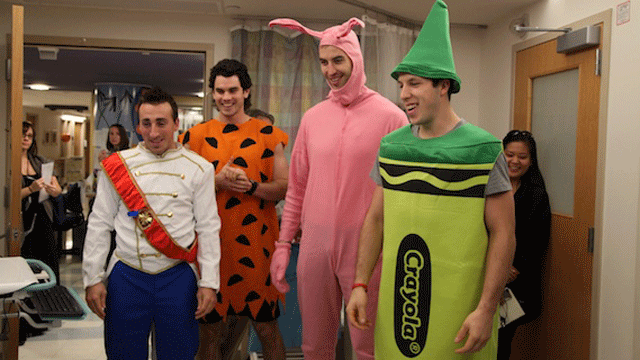 Four Boston Bruins players took some time out of their busy schedules to visit a local children's hospitals dressed in Halloween costumes to spread some cheer and laughter. And it worked, both inside and outside of the hospital.
Adam McQuaid (Fred Flintstone), Jordan Caron (the crayon), Brad Marchand (I'm assuming he's playing off Marchand by being a member of a marching band) and Zdeno Chara (big, pink bunny) all were there. The one that's drawing the most attention -- as I'm sure you guessed -- is Chara and his bunny suit. It looks like something my mother would have thrown together on Oct. 30 with the sewing machine and whatever she could find around the house (love ya ma!). Just, you know, for somebody much, much taller.
For those that aren't laughing, they might be crying. A near seven-foot monstrosity in a bunny suit with long, thin ears pointing straight out to the side? I can see how it's creepy.
"You look like a deranged Easter bunny. He looks like a pink nightmare!"
Which brings me to the image in my head of Ralphie reluctantly drudging down the stairs on Christmas morning in his new pajama suit from Aunt Claire in a Christmas Story. The only thing I can't tell is if Chara actually has the bunny slippers and cottontail. If so, it's a costume win.
Of course, it's a win no matter how they go. While people are having fun with the pictures from the hospital trip, it's all under the context of these players making a visit to a hospital.
The players deserve not only kudos for making the visit in the first place, but also for throwing humility out the window and going all out. (And props to Marchand for the marching band member, very clever.)
Photo: NESN.com/Phil Pesce
For more hockey news, rumors and analysis, follow @EyeOnHockey and @BrianStubitsNHL on Twitter.