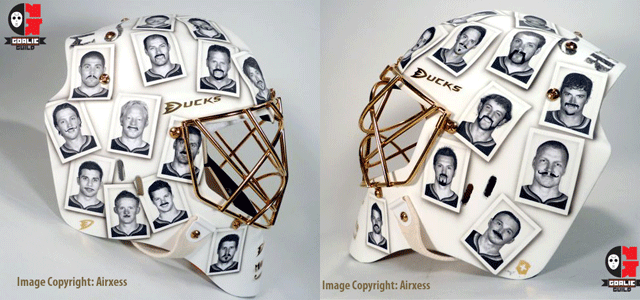 October is breast cancer awareness month. Players in all sports, including Montreal's Carey Price, show their support by wearing pink. Price went so far as to have a special mask made that would later be auctioned off with proceeds going to charity.
When the calendar flips to November another honorable cause will be honored across the NHL.
It's known as Movember and has really caught on in the hockey world. The entire point is for men to grow the best and most wicked mustaches they can in the month of November while they get their efforts sponsored. The point is not only to raise funds for, but bring awareness to men's health, specifically prostate cancer. It's a very cool and fun way for guys to take part in a good cause. We end up with 'staches like Sidney Crosby's from last year.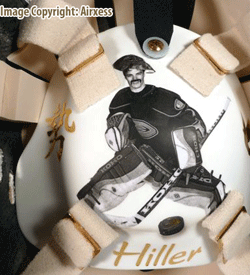 But nobody, not even Minnesota Wild forward Cal Clutterbuck's glorious mustache, will sport a tribute as awesome as Anaheim Ducks goaltender Jonas Hiller. He'll trade in his customary mat-black helmet (still just looks weird to me) for this awesome piece you see above with faces of his Ducks teammates all over the cage.
Remember when you were a kid and you drew mustaches on pictures everywhere you could find them? Or if you didn't actually do that, remember seeing other kids do it? That's what happened here, and the result is awesome. Drawn on mustaches rock.
But the coup-de-grace? That's the back of the mask, seen to the right. Hiller saved himself for that coveted spot where he is in full goalie pose with handlebar galore.
The mask was introduced by the website (and great Twitter follow, btw) the Goalie Guild and was so popular, it actually crashed the website for a short while.
But here is what the Goalie Guild had to say about the creation. (Also, visit the Goalie Guild site to see more photos of the mask, including from above and the front.)
When speaking with Alec [Voggel from Airxess] on one of our many Skype conversations over the past few days, here is some great background information on this special-edition Movember mask:

"Airxess came up with the idea, as we needed a game-used Hiller mask that would later be for sale because of the big demand. Hiller came up with the Movember idea himself, so as always, he gave us the input, and I had to create the design. Besides the concept, the whole testing to place all the portraits on the mask [it's not only done by airbrush] and the painting itself I have done, while Dan 'The Man' gave the mask a nice flat finish and left some parts shiny."
I love it. Not only do I applaud Hiller and the rest for taking part in the awareness and fundraising campaign, but I'm just a fan of mustaches. What guy isn't it (sorry ladies)? A friend of mine had his bachelor party over the summer and we were all required to sport our best 'staches. Fun times.
As far as specialty masks go, this one is a keeper.
Photos: The Goalie Guild/Airxess
For more hockey news, rumors and analysis, follow @EyeOnHockey and @BrianStubitsNHL on Twitter.