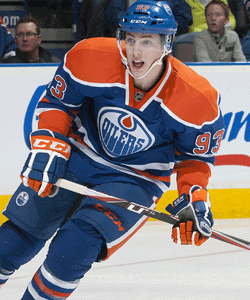 Looks like the Edmonton Oilers came to their senses after all. Either that or they just wanted to leave the hockey world in suspense.
The Oilers informed the top overall draft pick from this summer, Ryan Nugent-Hopkins, that he will be staying with the team instead of going back to his junior team just down the road from Edmonton in Red Deer. His next game will be his 10th with the Oilers, the extent of the pre-contract tryout.
"He knows the spotlight has been on him and will continue to be, but he went out there and did what he's always done," Oilers general manager Steve Tambellini said.
Last week the Oilers said they were still strongly considering sending Nugent-Hopkins back and giving him more seasoning in junior hockey. However I'm not sure how many people bought that. Nugent-Hopkins has been nothing but spectacular this season.
He is the team's top scorer with five goals -- including a hat trick -- and nine points. Can you imagine the justification Edmonton brass would have given for sending Nugent-Hopkins back? It surely couldn't be about not being ready to play at the NHL level.
Teammate Ryan Whitney shared everybody's thoughts on the matter.
"The Nuge is staying in NHL huh? What a shocker. In other news, sky is blue, grass is green and it's going to be cold in Edmonton in January."
This means that we will get to see a lot more of the Kids & the Hall line with the top pick two years ago Taylor Hall and Jordan Eberle. As a whole, the Oilers have 48 points. Nugent-Hopkins, Hall and Eberle have combined for 26 of those, including 10 of the team's 17 goals. Perhaps the most amazing thing about that line is that Eberle is the elder statesman at 21 years old.
"Taylor and Jordan have been amazing mentors for me," Nugent-Hopkins said. "I'm thrilled that I get to keep playing with those guys."
"The Nuge" -- I admit, I cringe when I type that, but it's just so much more convenient than Nugent-Hopkins -- did have some proving to do as his size was the question, but those questions should be gone. That was the only question to answer, and he nailed it.
Welcome to your NHL career, Nugent-Hopkins. It goes without saying this was the right choice.
Photo: Getty Images
For more hockey news, rumors and analysis, follow @EyeOnHockey and @BrianStubitsNHL on Twitter.