Sean Avery will be returning to an NHL rink near you, so it seems.
Of all the news breakers that cover the NHL and New York Rangers, it was the NFL on CBS' own Boomer Esiason who broke the news that Avery will be put through the process of returning to the NHL at lot faster than anybody, including Avery, could have assumed.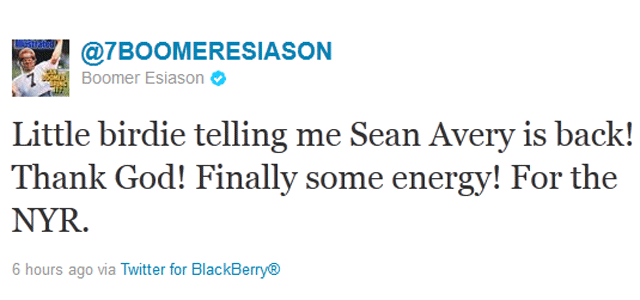 Larry Brooks of the New York Post and Nick Kypreos of Sportsnet later confirmed the news that Avery was going to be put on re-entry waivers likely on Monday. Considering he cleared waivers without issue when he was sent to the AHL, it shouldn't be an issue for him to clear them on re-entry. If he does, he would be eligible to play for the Rangers on Thursday against the Ducks in Madison Square Garden.
Avery was assigned to the Connecticut Whale just before the Rangers' season opener in Sweden. Coach John Tortorella, who has always seemed to have a frosty relationship with the New York fan favorite, said he didn't want to "jam" Avery up, believing that they had better players they were keeping.
Among that list of players is Kris Newbury, who is filling Avery's skates on the checking line. He hasn't exactly endeared himself to the fans in New York with his play. Of course, I am starting to doubt anybody can endear themselves to Rangers fans quite like Avery.
After the Rangers announced he would not be on the roster to start the season, he began exploring all of his options. Eventually, Avery said he chose to stay close to New York and play in the AHL rather than go for more money in Europe. He also said he didn't believe he ever had a fair shot to make the roster from the beginning and that he doubted he'd be back with the Rangers this season.
When the team finally played at the new Madison Square Garden last Thursday, the crowd erupted into a "We want Avery!" chant. There was a banner hanging from the rafters asking for Avery to come back and to send Torts (Tortorella) to the Whale.
Well apparently the fans have been heard. Avery could be back in a blue shirt by the end of the week.
Maybe the best news? HBO's 24/7 can once again follow Avery for their series coming up.
For more hockey news, rumors and analysis, follow @EyeOnHockey and @BrianStubitsNHL on Twitter.