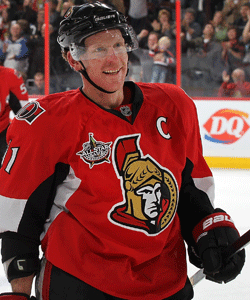 Just when things are going good for the surprising Ottawa Senators, they get word that their captain, Daniel Alfredsson, is going to be out for at least a week after sustaining a concussion.
Alfredsson took a hit from Wojtek Wolski of the New York Rangers in Saturday's 5-4 OT Sens win in New York. The league decided not to take any action against Wolski for the hit, concluding he was bracing in anticipation of contact.
Sens GM Bryan Murray was less than pleased with the decision and shared it with Allen Panzeri of Senators Extra.
"There were be no suspension, it was a hockey hit," said Murray.

"Basically, what I was told was that [Wolski] reacted to contact and stiffened up but didn't do anything out of the ordinary. Just happened to hit Alfredsson in the head."

Murray told Shanahan he didn't -- couldn't -- agree.

"Well, it's my player, and I have an emotional attachment to it, so no," he said.

"I told him I didn't agree. I felt that the player did go out of his way, a little, to make contact, that it was an elbow involved in the play.

"I thought we had determined that a shoulder check ... would be considered an accidental hit, but an elbow to the head I was under the impression there would be a suspension.
Speaking for myself, I concur with Murray on this one. It seemed like a hit that was worthy of further punishment, and I explained more why here. But what I find most interesting here is that this is the most vocal criticism -- even if it is mild in this case -- of Shanahan from inside an organization.
But getting back to Alfredsson, he will now be out until his post-concussion symptoms disappear. There never is any way of truly telling when that might happen, so while the Senators are enjoying a six-game win streak, in the back of their minds they will be thinking of their captain.
In the Sens' start, Alfie has scored four goals and contributed with three assists.
Photo: Getty Images
For more hockey news, rumors and analysis, follow @EyeOnHockey and @BrianStubitsNHL on Twitter.