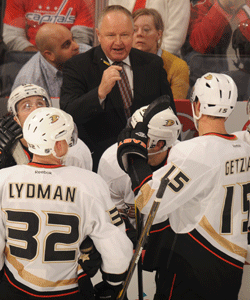 WASHINGTON -- This was going to be a story about the ageless wonder that is Teemu Selanne when the game was 4-2. If you had to name the best player on the ice in D.C. on Tuesday night, it would be the 41-year-old Finn. He had two goals. He assisted on Anaheim's other two. Simply put, he is still sensational.
After his four-point game, he now has 14 points in 12 games. Again, he is 41. I was getting my "Teemu Selanne is so awesome ..." jokes warmed up. Seriously, we haven't seen this type of production from somebody over 40 since Gordie Howe.
But then his team lost its lead and, well, it sort of changed the feeling in the room. (Good thing, my jokes sucked anyway.)
It was a game the Ducks had in their grasp. It was right there for the taking, all they had to do was hold off Washington's third line from scoring in the final minute. Instead they ended up losing 5-4 in OT, their sixth loss in seven outings.
"We began to self-destruct," coach Randy Carlyle said after the game.
That's just how things are going for the Ducks right now. They finally get some offensive production but the defense doesn't hold up its end of the bargain.
"We just seem to find a way to lose right now," goaltender Jonas Hiller said after the game. "We definitely have to forget about it and concentrate on the good things and I know everybody can play better. I have to start first with myself."
After Tuesday night, that was certainly a fair starting point. This was the second time in his last five starts that Hiller gave up five goals. The time, against Phoenix on Oct. 23, he was pulled.
"He's paid to stop the puck," an angry Carlyle said. "Simple as that."
The play in particular that was most egregious -- or most telling of Anaheim's recent "luck" -- came in the second period with the Ducks up 3-1. In what looked like a breakaway for the offense turned into a push from Caps goalie Tomas Vokoun the length of the ice, stopping just behind the goal line next to his crease. A few seconds later, Dennis Wideman was firing a laser shot into the net.
"What I think what happened was he was indecisive to go," Carlyle said. "I thought he should have played the puck above the goal line, get out of the net and just stop it."
"I thought when our guys were coming back ... I thought one of our guys was coming back because it was an icing," Hiller explained. "I thought 'well, we'll take that icing call' and then I was surprised nobody was there. But that's what I'm saying. Being in the wrong position at the wrong time."
So that was the problem on Tuesday night, goaltending. But it hid one other problem, the lack of offense. Let me explain.
Here are some numbers from the game that really drew my attention: 6-5-4. No, those weren't the daily pick-em lotto numbers, those were the number of shots per period by the Ducks. Add a bagel for the two-plus minutes of overtime and you have 15 shots in 62 minutes.
Entering Tuesday's game, the Ducks were tied with the Islanders for the lowest goals per game at 2.00. Through 12 games now, the Ducks are the third-lowest in the league with 24.8 shots per game. Only three times have they outshot their opponent. On Tuesday, Washington outshot them 40-15. None of those are recipes to winning.
Look at the production from this team, Tuesday included. As a whole, the Ducks have 25 goals on the season. Exactly one of those have come from a forward not on the top two lines on Tuesday; that was Maxime Macenauer's tally. Every other goal has come from a top-six forward of defenseman.
Obviously the top two lines are supposed to do the bulk of the scoring, but there needs to be balance in there.
Andrew Cogliano was just moved off the center position to the wing and bumped up to join Selanne and Saku Koivu on the second line. It looked like a perfect fit, it was clearly Anaheim's best group of forwards on Tuesday. They also have a pretty darn good top line in Corey Perry, Bobby Ryan and Ryan Getzlaf.
"We were playing our game for the first half of the game and we were up 3-0," Perry said when I asked if they were creating enough offense. "We were scoring on our chances. It says a lot right there. When we're skating and moving the puck -- chipping it in, chipping it out, no turnovers -- it's effective.
"We got to look at what we're doing right and take the positives out of the game. A little down right now, but if we bounce back and play the way we did in the first half of the game, we'll be OK."
"All you can do is work harder and battle a little more," Hiller added. "At some point those bounces will go your way but it seems like we aren't trying. Everything seems to bounce against us and that's definitely tough but you can't blame whoever, whatever for that. At the end it's us who are playing out there and it's up to us to work harder to get those bounces.
Maybe they can just double Selanne's shifts?
"He's done his part and he continues to," Carlyle said of the ageless wonder. "Other people have got to step up. Simple situation is we can't accept that from this group."
OK, here is one of those bad Selanne jokes: Teemu Selanne is so awesome, that he made a metal wall cry. (Or maybe that was just from the water bottle he threw at the wall after the game. But I'll choose to believe he made that wall cry. I told you they were bad. Sigh.)
Photo: Getty Images
For more hockey news, rumors and analysis, follow @EyeOnHockey and @BrianStubitsNHL on Twitter.