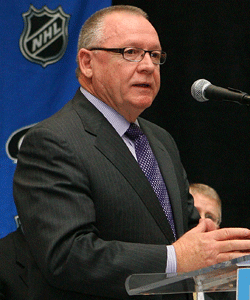 The Carolina Hurricanes announced the addition of 10 new people to the ownership group. Out of those 10 people, nine are based in North Carolina. Good day for 'Canes fans, adds a lot of stability to the franchise, etc.
"These new partners are devoted to the continued success of the Hurricanes in North Carolina," principal owner and team CEO Peter Karmanos Jr. said. "Their investments in our team further solidify our franchise's standing in the National Hockey League and the North Carolina sports community."
From the team's release, here are the new partners.
Eight of the ten partners are: Michael Kahn, Capitol Broadcasting Company, Inc. (James Goodmon, A.J. Fletcher Foundation), Matthew Szulik, Ice Puck LLC (Orris Temple Sloan, Jr.), Clancy & Theys Construction (David Tim Clancy, Joel Thomas Irving Clancy, Kathryn Virginia Clancy, Robert Todd Clancy, Sarah Elizabeth Sturm), Jim Rutherford, Hurricanes Investment, LLC (Abel Zalcberg, Barbara Zalcberg) and Whitney Holdings Inc. (Frederick J. Whitney, Timothy M. Whitney). The remaining two investment partners have chosen to keep their partnerships private.
OK, nice broad list of pe ... WHOA! Jim Rutherford, as in the organization's general manager? THAT Jim Rutherford? That would be the one.
That just made for a really interesting dynamic in Carolina. Now the GM is also an owner. While Rutherford's job seems incredibly safe, what with him being the only GM the Carolina Hurricanes have known and him recently signing an extension through the 2015-16 season.
Imagine that board meeting when the partners are all getting frustrated with the team, saying it needs a new direction. That moment wouldn't be awkward or anything. Or imagine -- tough to, I know -- a situation where Karmanos fires Rutherford. Does he remain in the ownership group at that point? Even further, imagine when Rutherford finally vacates the GM seat but remains an owner, there will be a heavy shadow hanging over the new GM.
It's an interesting dynamic, for sure, although not the first time. Michael Jordan has been in the same position with the NBA's Charlotte Bobcats. And if everything works out with the team, it will prove as a great source of continuity and stability.
Photo: Getty Images
For more hockey news, rumors and analysis, follow @EyeOnHockey and @BrianStubitsNHL on Twitter.