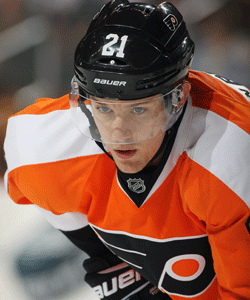 Let's take you back to the summer for a second. The Philadelphia Flyers, after overhauling their roster, announced the signing of James van Riemsdyk to a brand-spanking new six-year, $25.5 million contract. It signified that with the departure of Jeff Carter and Mike Richards, JVR was expected to be one of the big pieces moving forward.
So why was Van Riemsdyk scratched for Thursday's shootout loss to the Devils? It might not be the lower-body injury sustained in Philly's recent game in Buffalo that the Flyers gave as a reason.
Frank Seravalli of the Philadelphia Daily News reports the reason could be of a much different variety: coach Peter Laviolette's doghouse.
[Van Riemsdyk] arrived at the Wells Fargo Center at his normal time last night, fully expecting to play in last night's 4-3 shootout loss to the Devils. He kept to his normal pregame ritual. He took part in the Flyers' pregame warmups, skating on his line with Danny Briere and newcomer Sean Couturier.

Then, van Riemsdyk was scratched from the lineup without explanation.

According to a team source, speaking to the Daily News last night on a condition of anonymity, Flyers coach Peter Laviolette was "especially critical" of van Riemsdyk's performance on Wednesday night -- despite the fact that he scored a highlight-reel goal against the Sabres -- and called him out during a team meeting.
The source also told Seravalli that Van Riemsdyk "could have played and expected to play."
Laviolette later said "it was poor reporting" on Friday when asked about the situation. Whether it's false or true, I wouldn't expect Laviolette to say anything to the contrary.
In the 12 games he has played this season, JVR has five goals and three assists. Not too shabby.
It would seem that Laviolette is either a) truly upset with Van Riemsdyk or b) trying to play some psychological games to get through to JVR.
I'll be interested to see any more on this down the line. I doubt the Van Riemsdyk angle is played out much in public moving forward and he'll probably be back in the lineup the next time out. But where it could have an impact is in the dynamics of the team. Unexpectedly scratching the team's second-leading goal scorer isn't always great for team morality and the views of a coach.
Photo: Getty Images
For more hockey news, rumors and analysis, follow @EyeOnHockey and @BrianStubitsNHL on Twitter.