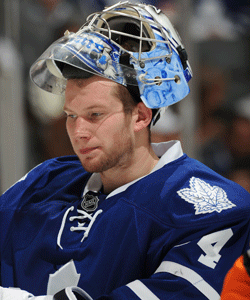 The Toronto Maple Leafs weren't expected to be without starting goaltender James Reimer for long. His absence is up to six games now and counting.
On Friday Reimer did not take part in the practice, the training staff still wanting Reimer working out off the ice.
"He kind of hit a plateau in his recovery so the trainers decided not to ask him to go on the ice," coach Ron Wilson said. "With the other two goalies playing well, if he's not going to face a lot of shots [in practice] it's better for him to just workout off the ice.
"I'm just coaching the next game. I'm not concerned about that. I'm not a doctor or a trainer. We've got healthy guys and they're doing the job so we'll give James plenty of time to recover. There's no rush to get him back."
Here's where we play the game of Guess What's Really Going On.
Wilson would only call Reimer's injury as an "upper-body injury." Ever since Reimer took a blow to the head against the Canadiens in a game on Oct. 22, the team has maintained that Reimer didn't suffer a concussion, just that he has some "concussion-like symptoms."
The team can insist all it wants that there isn't a concussion at play here, but it won't stop the speculating, especially when you hear things such as the recovery hitting a plateau.
In the meantime, the Leafs have been relying on Jonas Gustavsson to take the lion's share of the minutes. We wondered if it was cause for concern, and the answer is yes, it was. But the Leafs haven't slowed down with the Monster in the cage, sitting tied for the NHL lead in points.
Photo: Getty Images
For more hockey news, rumors and analysis, follow @EyeOnHockey and @BrianStubitsNHL on Twitter.