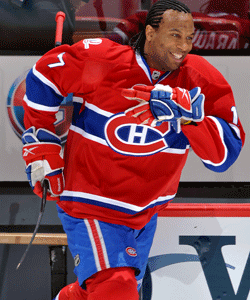 Former NHL tough guy Georges Laraque has been busy since retiring after the 2009-10 season. He has visited Haiti with P.K. Subban. He has gotten involved with the Green Party in Canada and he became a vegan. He even did some rapping.
Add a somewhat salacious book to the long list.
In Laraque's book The Story of the NHL's Unlikeliest Tough Guy, he pulled a Jose Canseco, claiming that steroid use was rampant in hockey, and not just among the enforcers. The star players doped too.
"I have to say here that tough guys weren't the only players using steroids in the NHL," Laraque wrote. "It was true that quite a lot of them did use this drug, but other, more talented players did too.
"Most of us knew who they were, but not a single player, not even me, would ever think of raising his hand to break the silence and accuse a fellow player."
That's where his book differs from Canseco, who throw a lot of names under the bus in his tell-all baseball book Juiced. Laraque doesn't name any names.
But Canseco's book has done a funny thing to the sporting audience; it made people apathetic to performance-enhancing drugs in sports. At this point, it's expected. Hockey hasn't been plagued with the scandal like baseball or even football has, but I still don't think this caused many people to bat an eyelash. If they were being used in a sport like baseball, I don't think many were naive enough to think they weren't around in a physical game such as hockey.
Especially without naming names, it's even less eye-catching. At first, Canseco was hammered for his hit-and-run approach. But as one name after another was further implicated, Canseco was further vindicated. He burned bridges, something Laraque clearly isn't willing to do, but it made his claims that much stronger -- and loud.
So in a way, hockey should thank Canseco. Because of him taking baseball through the pain of the steroid scandal, the topic is a bit played out. Fans have come to expect it, while not necessarily liking it, most at least accept it. This is certainly enough to kickstart the conversation in hockey again. The league's performance-enhancing drug testing will be examined. But I'm not sure there will be the massive uproar that America's Pasttime heard.
Laraque even seems to admit that he's not giving away a big secret by saying the tough guys in the game were using. It's the inclusion of some star players that is the revelation. But without names, this carries little weight and the stain will be much easier to wipe away than the one that has plagued baseball.
Now if you were looking for dirt, there was the fact that Laraque called Wayne Gretzky "The worst coach I've ever played for." Of course, I don't think that one will surprise many either.
Information from the Associated Press was used in this report. To read the entire AP story, click here.
Photo: Getty Images
For more hockey news, rumors and analysis, follow @EyeOnHockey and @BrianStubitsNHL on Twitter.