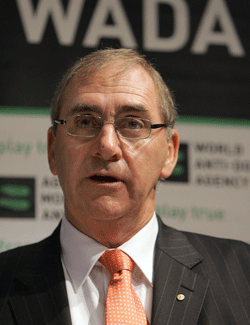 Former NHL enforcer Georges Laraque opened up a can of worms this weekend when his book The Story of the NHL's Unlikeliest Tough Guy came out. I mean, he damaged the good name of the Great One, saying Wayne Gretzky wasn't good, let alone great when it came to coaching.
Oh, and something about players taking steroids too.
Yes, Laraque dropped the "S word" and now the conversation is open. That's not say it shouldn't be. Quite frankly, it should have been a bigger talk for years in hockey, much the same as it has been in baseball. But for some reason, it has been a very quiet conversation.
It is a conversation that former World Anti-Doping Agency head Dick Pound started a little bit back in 2005. That's when he estimated about 1/3 of player in the NHL were doping. The numbers seems a bit high, even for many of the cynics. So it comes as no surprise that Pound isn't ... um ... surprised by Laraque's claim that players are doping, more than the enforcers.
"Anybody who pays attention to these things already knew that," Pound told the Canadian Press on Monday. "The only organization in denial was the NHL.
"When you see some of the stuff occurring on the rinks these days, you don't know whether you're dealing with people who are playing the game in a steroid rage or not, but some of these head shots are not accident."
Pound continued by discussing the NHL's drug-testing policies, something a colleague described to me as the "most lax PED policy in pro sports."
"They still don't test in the off-season," Pound said. "If you've got an IQ higher than room temperature, you know they can do this program for a number of weeks and have the stuff all flushed out of your system and still get the benefit of it.
"If you know you're not getting tested before the season begins, it's an invitation to do it in the offseason."
That's the biggest criticism of all, the dark period of testing. From the end of the season until it begins again, players aren't under any kind of microscope.
But not everybody agrees with Laraque and Pound on this matter. We point you to naive crowd over in blue corner, led by the always opinionated Jeremy Roenick. Not only does he not believe the better players are doping, he doesn't think ANYBODY is doping. This is what he told The Score in a recent interview.
"I think the steroids, I think he was referring to two different things, one, I think maybe in the late 80′s/early 90′s when the fighters were as prevalent, they were a dime a dozen, there might have been a little bit more of…something to happen. I can tell you right now that steroids is not an issue in the National Hockey League whatsoever. There is no steroids whatsoever, across the board in the National Hockey League."
That's quite a stand to take. You can probably tell by my tone that I don't agree. Maybe I have grown to be one of those cynics, but I just can't believe that nobody is using PEDs in hockey. But there has only been one player caught under the current testing framework, Sean Hill with the Islanders back in 2006. The cynic says that shows how bad the testing policy is. The clean-believers say that shows the game is clean.
If any of the players currently in the game have seen them, they at least aren't saying as much.
"I was in the dressing room pre-lockout for training camp. Never heard [about it] nor saw it," Maple Leafs veteran defenseman Dion Phaneuf said. "I've never, ever seen it."
Senators enforcer Zenon Konopka was even more vocal about it, even taking a shot at Laraque.
"I don't know what his reasons are to define it as a problem, but it's like most things in life that people don't get enough information and shoot their mouth off about something before they get all their facts," Konopka said.
"I think Georges probably should have done a little more fact-finding himself before making comments that maybe he'll regret."
Are we headed down a path that will take hockey in front of Congress? Probably not. But you better believe that if nothing else, Laraque just reopened the conversation.
Photo: Getty Images
For more hockey news, rumors and analysis, follow @EyeOnHockey and @BrianStubitsNHL on Twitter.