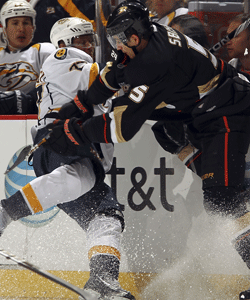 It doesn't feel like there are a lot of rivalries left in hockey. Hatred like that between the Canadiens and Bruins still exists, but the rivalries born from play on the ice and ones that go beyond geography/history? Not too many. The Red Wings and Avalanche had one a while back, but that has petered out. Oh sure, fans, particularly those in Colorado, will tell you they still hate the other team, but the height of the rivalry? It's in the past.
However we might have a new one emerging. I'm hoping so, they make the games that much more fun and interesting.
The Anaheim Ducks and Nashville Predators seem like unlikely combatants being that they are two time zones apart and some 2,000 miles. But familiarity breeds contempt, and these two have been getting familiar since last season. In this case, let's say the relationship is moving at an accelerated pace.
"We got to know each other a lot," Preds coach Barry Trotz said following Nashville's 4-2 in Anaheim on Wednesday. "I don't think we really care for each other."
Every win is nice in the NHL, I would never argue otherwise. But how often do wins just seem to be extra sweet in early November? Not a tremendous amount of them. But judging by Preds agitator Jordin Tootoo's response, this one was as sweet as candy.
"Yeah, you have to go in with kind of a '[forget] you' attitude," Tootoo said (with Cee Lo Green channeled). "They talk all the time and talk is cheap. It all comes down to results and tonight we got the two points so they can [chew] on that."
Where exactly did this hatred begin percolating? Exactly where every good blood battle does.
"It started in the playoffs last year," Ducks forward Ryan Getzlaf said before the team's first matchup this season in October.
If the playoffs was the birth of the rivalry then that first meeting was a growth spurt. There was one play in particular that had Getzlaf in a rage. It came when Corey Perry legitimately slashed Tootoo, who fell to the ice in a pretty dramatic scene.
We won't rehash the entire story from that game, so if you want to read all of the quotes from Getzlaf, here they are. But they were rather incendiary, accusing Tootoo of flopping and lots of use of the word embarrassing.
Here's how you know that a rivalry is getting good. A coach even got in on the sniping back and forth. Trotz had this to say before Wednesday's game.
"They have some guys who aren't exactly lilywhite, some of their tough guys," Trotz said. "You watch them behind the play when the ref's not looking, they do a lot of [stuff]. That's just whining to me. Go on the ice, play and if you have a problem with someone, take care of it. Don't go through the paper. That's all."
How great is that? Not only is a head coach joining in the barb tossing, but he's throwing in words like lilywhite? Just awesome.
A proposal for the NHL. When you reach your final realignment verdict, can we squeeze the Preds and Ducks into the same division? No? Tis a shame. Just when this rivalry is budding, it could be halted. Well, at least there are two more games this season and, if the Ducks get their act together, maybe another postseason series? I'll be waiting.
Photo: Getty Images
For more hockey news, rumors and analysis, follow @EyeOnHockey and @BrianStubitsNHL on Twitter.