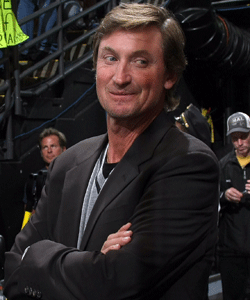 Earlier this week a report surfaced that an American investment group was interested in purchasing the Ontario Teachers' Pension Plan's stake of 80 percent in Maple Leaf Sports & Entertainment. At the same time, we had a little fun with the idea of an American owner adding to an American GM, American coach and an American leading scorer for arguably Canada's biggest team.
Well, the group might be adding one of Canada's most recognized faces to the party.
As reported by Sportsnet in Canada, Providence Equity has reached out to Wayne Gretzky about the Great One coming board ownership of MLSE with them in a potential purchase. MLSE also includes the Marlies (AHL), Raptors (NBA), Toronto FC (MLS) and Air Canada Centre.
"Yes, I've been approached by multiple firms considering the purchase of MLSE," Gretzky told Sportsnet.
That would certainly increase the cachet of a group trying to buy the majority of the Leafs.
While obviously Gretzky would not have a big part whatsoever as far as ownership stake is concerned -- the asking price for the majority share is believed to be more than $1.5 Billion -- he could be somewhat of a face for the group. One comment I received on Twitter about the original story was that it wasn't an American ownership group that concerned this Leafs fan, but the lack of a single face.
At this point, the purchase of MLSE by Providence or any other group still seems like a long-shot, but the OTPP has indicated it is looking to sell. So really it's a guessing game what involvement Gretzky would have at all. He tried his hand in the executive aspect of hockey down in Phoenix, which wasn't the greatest experience of his NHL career. Maybe the potential buyers would just be looking at him as a figurehead, a mascot if you will. Or perhaps he would sort of serve in a more functional role and be the face among the group.
It could be a very savvy move by Providence if they want to really try and purchase 80 percent of MLSE. It could help ease some of the xenophobic fears about an American group owning the team. Not to say that Leafs fans are against American involvement, but you know there would be a hint of xenophobia if this came to fruition.
Photo: Getty Images
For more hockey news, rumors and analysis, follow @EyeOnHockey and @BrianStubitsNHL on Twitter.