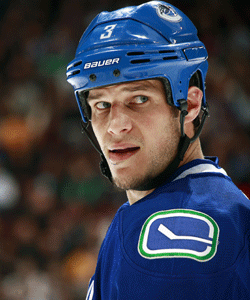 Mark Recchi shared his feelings on last season's Vancouver Canucks last week. Let's just say, he wasn't very fond of them, calling them the most arrogant team he faced in his career. That career, mind you, stretched 22 seasons, so he's been around the block.
Of course that caught the attention of the Canucks. With their superstars being rather humble and quiet (the Sedin twins) the role of "team spokesman" seems to often go to defenseman Kevin Bieksa. He was a bit confused/insulted and thus combative when it came time for a response.
Here is what he told Jason Botchford of the Province.
"Isn't he retired? What's he doing? Tell him to go play a round of golf or take a nap. Why is he chirping us?"

Then, Bieksa started to pick apart Recchi's assertion.

"You can call us a lot of things, I don't think arrogant would be one of them," Bieksa said. "This is not even close to the most arrogant team I've even played on.

"The twins are so humble and you may not like playing against guys like (Maxim) Lapierre, and (Alex) Burrows but they're not arrogant. I just don't get it. Mark Recchi can go take a nap."
Take a nap. You have to admit, that's a pretty good response.
There was certainly no shortage of animosity between the two Stanley Cup finalists last season. From the biting incident to tire pumping and Nathan Horton's concussion, things were never very cordial, so perhaps that's where Recchi got the impression.
Canucks coach Alain Vigneault was a bit more cordial (and most would agree, mature) in his response to Recchi's comments.
"I've known Mark, I've coached Mark, he's a quality person," Vigneault said. "But you can also win with class. You don't need to rub it in. It was a seven-game series. This team, in my mind, is about integrity. We play the right way. They won.

"It is not a very classy thing."
That was the series that keeps on giving. Not only was it an excellent series, but the lasting effects keep on coming. Too bad Recchi won't be on the ice for the rematch Jan. 7 in Boston.
Photo: Getty Images
For more hockey news, rumors and analysis, follow @EyeOnHockey and @BrianStubitsNHL on Twitter.