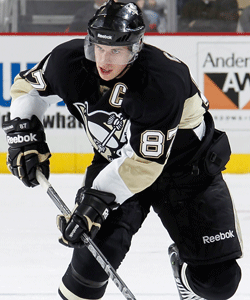 The Pittsburgh Penguins have announced the wait is over, Sidney Crosby will finally return to the lineup on Monday against the New York Islanders.
And the hockey world cheered.
"He's excited and anxious," coach Dan Bylsma said on a conference call Sunday. "I think the building's going to be going crazy."
When he returns, he'll be playing on a line with Chris Kunitz and Pascal Dupuis, the players Bylsma said Crosby is the most comfortable with.
But don't expect too much from him in Game 1. Byslma said Crosby told him that he'll likely only be able to play 12 minutes, prompting Bylsma to laugh.
"Sidney's adrenaline will be going so high," Bylsma said. "When Sidney Crosby gets to 12 minutes, he's certainly going to want the 13th minute."
You'll be able to watch the game on Versus (or CBC for our Canadian friends) as the American network has swapped from Canadiens-Bruins to the return of Sid.
Crosby has been out of the lineup since January 5 when he suffered a second concussion in as many games. Since then, it has been a long and twisting road to his return with the hockey world waiting with bated breath for the return of arguably the NHL's top player. The wait is over.
It's a development that's exciting to everybody in the NHL. The fans of the game (and the Penguins, of course) are thrilled to have Crosby back on the ice. The rest of the people like Jeremy Roenick are happy the speculating and anticipating is done with.
Crosby was cleared for contact on Oct. 13 and has since been going through the normal rigors of practices with his teammates as well as traveling with the team in recent weeks. For the past two or three weeks Crosby has more or less been day-to-day and for their part, the Penguins have been very good keeping everybody up to date, announcing the day before the game if Crosby would be playing or not.
Pittsburgh will obviously welcome Crosby back with open arms, but it's not as if the team has struggled in his absence. They are still in first place of the Atlantic Division (tied with Philadelphia) with Crosby out. Assuming Crosby returns to his old form -- and there is no reason to believe he won't -- the Penguins are the favorite to win the East, something many people already considered them to be.
Before he went down with the concussions last season, Crosby played exactly have a season -- 41 games -- and had 32 goals plus 34 assists. So now the question becomes how many points will Crosby score this season?
Pittsburgh has 62 games left on its schedule. So assuming Crosby will play in most if not all of those games, I'm going to cautiously set the over/under at 65 points. Under normal circumstances, most everybody would take the over on that, but there remains some uncertainty on how Crosby will perform when he comes back on the ice.
Considering how careful the Penguins were with Crosby throughout his entire recovery, it's difficult to imagine that he won't becoming back near 100 percent physically. He's been practicing for a long time with the team, so perhaps there won't be a lot of rust to shake off. The most interesting part will be seeing how he reacts to playing by the boards and after taking his first couple of hits.
Oh, and if anybody wants to take a run at Crosby now that he's back, I'd like to remind would-be checkers that the Penguins just recalled Steve MacIntyre from the AHL and, well, he can fight.
"We know what he means to this team, this city," defenseman Kris Letang said. "He's a special player."
And what he means to the NHL. Like him or not, this is great news for the league.
Photo: Getty Images
For more hockey news, rumors and analysis, follow @EyeOnHockey and @BrianStubitsNHL on Twitter.