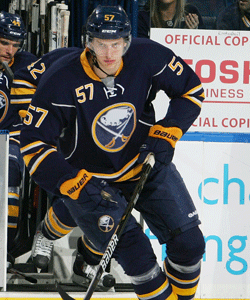 It's been an eventful week-plus for Tyler Myers. It began with him being a healthy scratch, he returned to score two goals and then delivered a hit that drew a warning from player safety chief Brendan Shanahan.
Now it ends with him suffering a broken wrist that will make him a scratch every game for the next 4-6 weeks. Or possibly longer, according to Mike Harrington of the Buffalo News. He notes that with Myers suffering a scaphoid fracture, 4-6 weeks is awfully optimistic. It could be closer to 8-12 weeks.
Myers suffered the injury at the end of the second period of the Sabres' 4-2 loss to the Phoenix Coyotes on Saturday.
"It happened just on an awkward play," coach Lindy Ruff said. "Nothing that you'd ever notice, just one of those freak-like incidents."
Fellow defenseman Robyn Regehr talked about the void that Myers' absense will leave.
"It's important that we each try and step up a little bit and fill that void. And there's also a real good young call-up with T.J. [Brennan] here," Regehr said. "I know he's really looking forward to getting in the lineup and helping us out as well."
It's a bad break for Myers and the Sabres as he was just beginning to turn the corner after the benching. This is the second straight season Myers has been slow out of the gate. He struggled for a good portion of last season -- his sophomore campaign after winning the Calder Trophy -- before turning it on late.
Now he'll have to wait a while before he can try and regain that form long-term once again.
Photo: Getty Images
For more hockey news, rumors and analysis, follow @EyeOnHockey and @BrianStubitsNHL on Twitter.