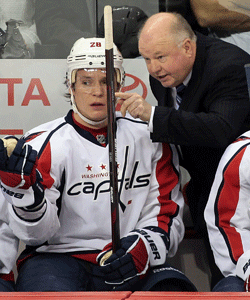 The Washington Capitals are in one massive funk. And this one isn't like last year's slump where the Caps weren't playing all that bad but still losing every night for a couple of weeks. No, in this stretch they are playing downright poor hockey.
Chief among that funk is the team's talented Russian forward named Alex (OK, well both of them, but in this case we're talking about Alexander Semin, not Alex Ovechkin).
Bruce Boudreau has tried it all to get Semin to perform better. He has called him out through the media. He benched Semin for the second half a game. The following game he gave Semin a lot of ice time, trying some positive reinforcement. He then had Semin playing with the fourth line in practice. None of it seemed to work all that much. Semin has more minor penalties (14) than points (nine).
So now Boudreau is pulling about the last card in his deck: Semin was a healthy scratch for Monday night's game against the Coyotes in Washington. It's the first time since 2003-04 Semin has been a healthy scratch.
Even more interesting, Semin didn't even take part in the Caps' morning skate on Monday or in the pregame skate around, both somewhat unsusual occurences. Although the morning skate was optional.
We're used to players performing their best in contract years, i.e. the final years of their contracts. That's not the case for Semin, who is not under contract beyond this upcoming spring. If he doesn't get this turned around quick and find his way out of Boudreau's doghouse, it will be interesting to see what his options for the future will be.
Photo: Getty Images
For more hockey news, rumors and analysis, follow @EyeOnHockey and @BrianStubitsNHL on Twitter.