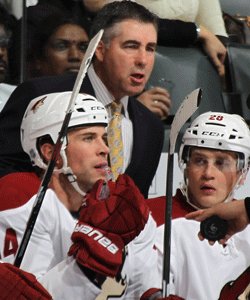 WASHINGTON -- The Phoenix Coyotes are a little more like another inhabitant of the Southwest, cockroaches. They just won't go away -- speaking both of on-ice ability and relocation. They can survive anything, it seems.
Lose Ilya Bryzgalov? That's alright. Kyle Turris refuses to play for them? They survive.
"It's no secret we don't have an [Alex] Ovechkin or a [Nicklas] Backstrom or a superstar guy like that who's going to get us 50 goals or 150 points," defenseman Keith Yandle said before Monday's game against the Capitals. "It has to be a collective effort in our locker room for us to win games."
There have been some constants through it all in recent seasons, namely coach Dave Tippett. I hesitate to give too much credit to coaches in sport, I believe they are given way too much credit or blame for a team's successes or failures, but it's hard not to praise Tippett's work in Phoenix. As Yandle points out, there is no superstar on this team (Paul Bissonnette's Twitter fame doesn't count here). The closest they come is probably Yandle himself, or veteran Shane Doan.
That's where Tippett comes in. It's starting to look like no coincidence that Bryzgalov's career took off when he began playing under Tippett in the desert. The same is happening now with Mike Smith, the goaltender they signed to be the No. 1 guy despite no track record of being that in the past. He is performing well enough to have the low-scoring Coyotes hanging in the early going with the Pacific Division heavyweights.
It all comes back to the system. Eye On Hockey cohort Adam Gretz looked at the numbers of the Tippett system a ways back and you see the drop in production hasn't been that drastic from Byzgalov to Smith.
"Unless our goalie stands on his head or something like that, or we get a couple of fluke goals, we have a tough time winning if we get out of our system," Yandle said. "That's why our coaches put it in play and they know that's how we have to win.
"Here's the thing with our team: I feel like we get better as we go along. As soon as everybody, so called, buys into the system and does what the coaches want us to do, I think we're a lot better team. It might take us a few games to do that but I think we're on that path. Just taking it in stride right now and trying to do what the coaches want us to do and I think we've been getting better every game."
While the system isn't failing the Coyotes, perhaps the "system" is (that's an attempt at a segue, folks., emphasis on attempt) You know, the system that continues to leave the team's future in the clouds as it remains under NHL control?
Because of that uncertainty -- or probably it's the simple answer that Phoenix just isn't a hockey market -- the Coyotes don't really get the feel of a home game often. If ever.
"We play a road game even at home," Tippett laughed.
You don't need me to tell you the Coyotes don't draw well. This season they are again at the bottom of the league in attendance. So then it should come as no surprise that Phoenix is pretty good on the road.
"We play a pretty simple game. We're expected to compete hard," Tippett said. "You go into a road game, you got to make sure you have your details are good, you're playing the game strong and smart and finding ways to win. That's kind of the way we've been on the road. I think we do the same thing at home, but I think our road stats are a little better right now."
Yandle had a slightly different idea on why they fare well away from the desert.
"We're just the type of team that plays a road-style game where it's just ugly and you try to take crowds out of it," he said. "We try to work a team and not do anything fancy. Maybe on the road we're not trying to impress anyone, we're just trying to play our game to the fullest."
Of course, no story on the Coyotes would be complete without a real mention of Doan, the lifelong Jet/Coyote. For most teams, the last players on the ice for practices and morning skates are the scratches, guys who need a little extra work. For Phoenix, the last player off the ice every time is Doan.
"He's probably one of the best captains of a team I've ever seen around," Tippett said. "He has total respect from his teammates. His attitude and work ethic toward the game is phenomenal. This organization is the only organization he's really known, so he's the been the cornerstone here and he carries that label very well. True face of our franchise and true leader of our franchise."
Doan is third on the team with six goals and six assists. He's first in longevity. He is one of those players that fans often romanticize about, somebody who plays his entire career for one organization. While he still has a few years to go at age 35, it's tough to imagine him up and leaving at this point.
As I said, some things just don't change for this franchise.
Then again, maybe the name Coyotes does fit. After all, Wile. E. Coyote could withstand whatever the Roadrunner did to him.
Photo: Getty Images
For more hockey news, rumors and analysis, follow @EyeOnHockey and @BrianStubitsNHL on Twitter.