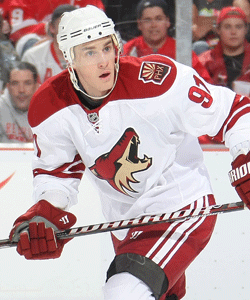 The standoff between the Phoenix Coyotes and Kyle Turris has come to an end. The two sides did the impossible and actually reached an agreement. Since the summer, it seemed more likely for Israel and Palestine to find peace than it was for Turris and the Coyotes.
That all ended on Tuesday, just nine days before the deadline that wouldn't have allowed Turris to play anywhere this season. The Coyotes announced the re-signing of Turris to a two-year contract extension. Darren Dreger of TSN says the contract calls for $1.2 million this season, $1.6 million next season.
"We are pleased to agree to terms with Kyle on a multi-year contract," GM Don Maloney said. "Kyle is a top, young player who will make us a better team. We look forward to having him in our lineup so he can contribute to our team."
Both Turris and Maloney dug their heels deep into the ground, neither refusing to yield after no agreement was reached over the summer with the restricted free agent. Turris' agent began saying it had nothing to do with money, Turris wanted a fresh start somewhere other than Phoenix. Maloney insisted time and time again that if Turris were to play this season, it would be with another team. Sounds a bit different than Turris' tone after signing the new deal.
"I am happy to sign with Phoenix and start playing," Turris said. "It's been a long process, but now I am focused on playing and helping the team win."
Now the speculation continues; with Turris under contract will he now be traded? It sure seems to me like Maloney won through and through here. I have a feeling that Turris finally had to fold on his bluff and will play in Phoenix. But I don't think he's be upset if the Coyotes were to have a change of heart and dealt Turris out of town.
One common rumor I saw being spread in the last 24 hours was a trade of Turris to the Capitals for the struggling Alexander Semin. Money considerations aside (there is about $5 million per season difference between them) the talent discrepancy seems awfully big as well. Understanding the potential aspect, Semin has already proven he can be a big-time scorer. Turris hasn't.
If you're wondering why there has been so much made about this Turris "hold-out" and trade talk for a guy that now has a $1.4 million cap hit? It's because Turris has that ol' potential tag on his name. Since he was drafted No. 3 overall in the 2007 draft, he is still highly coveted by a lot around the league. So far, last season was his career year with 65 games played and 11 goals scored.
Photo: Getty Images
For more hockey news, rumors and analysis, follow @EyeOnHockey and @BrianStubitsNHL on Twitter.