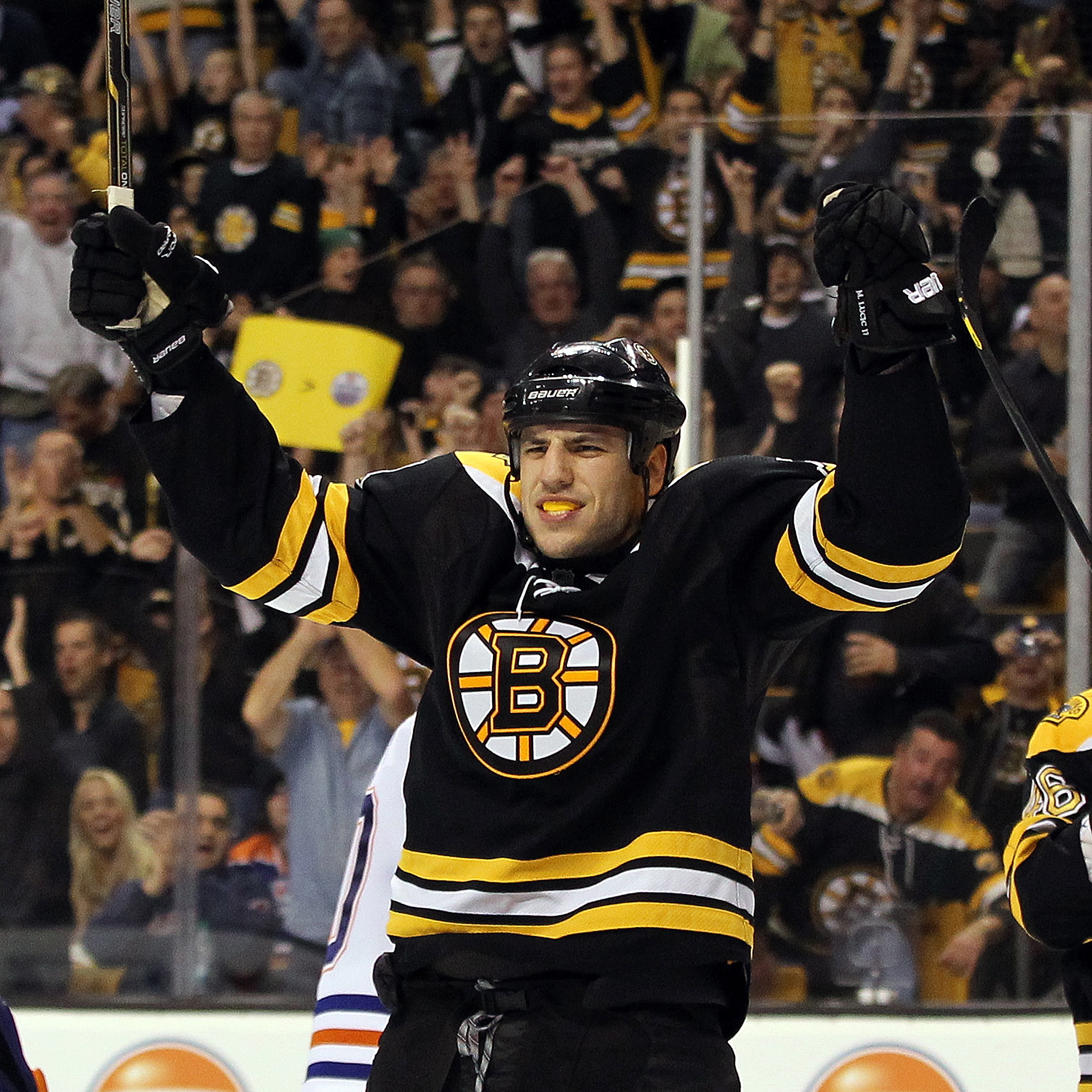 By: Adam Gretz
The last time the Buffalo
Sabres
and Boston
Bruins
met we watched as
Milan Lucic
plowed through
Ryan Miller
, sparking a debate as to whether or not goalies should be "fair game" when they venture out of their crease to play the puck (according to the current NHL rules, they're not). The play even resulted in the topic of goalie protection being
a last-minute addition to the agenda of the general managers meetings
that were taking place later that week.
When the NHL decided not to suspend Lucic there was a concern that it meant it would now be "open season" on goalies, a fire that the NHL quickly tried to extinguish. It also left us wondering how the Sabres would respond when the two teams faced off again (as they will on Wednesday night), and whether or not they would attempt to dish out their own brand of vigilante justice. In the initial meeting, immediately after Miller was hit, the Sabres did not respond the way one would expect a team to respond after watching their starting goaltender, and arguably their best player, get run over by a member of the opposing team.
Sabres head coach Lindy Ruff has said repeatedly that the team wasn't happy with their response and that it won't happen again.
As expected, the NHL has warned both teams about any shenanigans that may take place when the two teams meet on Wednesday, but that doesn't mean something won't go down after the puck drops.
Miller suffered a concussion as a result of the play and has not been back in the lineup since, and had some strong words for Lucic in his post-game interviews saying, "I just stuck around because I wanted to say what a gutless piece of [feces] I think Lucic is."
Lucic is already expecting somebody from Buffalo to take a run at him, and that's probably a safe bet. In recent years the Sabres haven't been a huge fighting team, finishing 23rd, 27th and 25th over the past three years in fighting majors. Through the early part of this season they're eighth, one spot behind Boston, with 10 fighting majors. The leader in the clubhouse at this point is
Cody McCormick
with four.
Patrick Kaleta
and
Paul Gaustad
each have two, while
Robyn Regehr
and
Mike Weber
have each dropped the gloves once.
It's hard to say how it will all play out, but if I had to guess right now I'd say that somebody, and this would probably be McCormick if he plays (he's missed the past three games), given his size and experience as a fighter, challenges Lucic early in the game and the gloves come off. Hopefully that's the end of it and everybody can move on, but there's a chance, if the referees allow it and can't take control of the situation, that things could quickly get out of hand. The Bruins aren't a team that takes kindly to being challenged physically, regardless of the circumstances, and they've had their share of donnybrooks over the past couple of years.
It's also worth asking if the Sabres might try to return the favor and make their presence felt around the Boston net.
As I mentioned above, there was a concern in the immediate aftermath of the NHL's decision to not punish Lucic that it is now open season on goaltenders, and we've already seen a taste of that in the week-and-a-half since Miller was sidelined. In Buffalo's
very next game
Jhonas Enroth
was hit by Montreal's
Erik Cole
skating through the crease.
On Tuesday night we watched as Toronto goaltender
Jonas Gustavsson
left his crease to play a puck behind the net, and was then hit from behind by Tampa Bay's
Ryan Malone
, resulting in no penalty (
click here to watch
). When Gustavsson pleaded his case to the official that watched the play unfold right in front of him, the referee simply pointed at the spot on the ice where the Leafs goalie was hit.
Whatever happens, this is probably the most anticipated game on Wednesday's schedule.
Photo: Getty Images
For more hockey news, rumors and analysis, follow @EyeOnHockey and @agretz on Twitter.