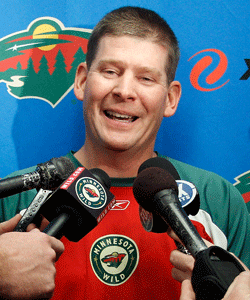 The Minnesota Wild found themselves in a pinch on Wednesday afternoon when it came down that starting goaltender Niklas Backstrom wouldn't be in attendance. Most teams would just call up a goalie from the AHL to serve as the backup.
Minnesota did exactly what most teams would do, and they called to Houston to bring up Matt Hackett to be the backup to Joshua Harding on Wednesday. The only problem? Hackett didn't even get into the Minneapolis airport until a half hour before the game. That's not entirely helpful with the pregame skate or any situation where Harding would go down.
That's where the pinch comes in. As a result, they turned to the beer leagues and signed 51-year-old Paul Deutsch to dress for Wednesday's game against the Predators. Here is the full story of the signing from Michael Russo at the Minneapolis Star Tribune, complete with quotes like this:
"I actually was shaking while I was signing [the contract]," said Deutsch, who filled in "Minnesota Roosevelt Junior Varsity defenseman -- 1978," as his previous team on the contract.
Unfortunately for those hoping for the underdog story, Hackett did make it to the arena just in time, meaning Deutsch was a scratch.
The Wild aren't complete stranger with Deutsch. He has been brought in to help the team in a tight situation before, serving as a goaltender in practices for the Wild. This time it will be in front of a little bigger crowd.
If he would have had the chance to play, he might have signed another contract by the end of the night: one for a movie. Deutsch is a screen printer for his day job. But making the story even more incredible? Deutsch didn't start playing goalie until he was 37 years old.
"When you play senior men's hockey and you show up to the rink and there is no goalie, there is no game," Deutsch said. "So that's how I started playing. I was tired of coming, walking into the room and, 'Oh rats.'"
The funny part is that Deutsch already planned to go to XCel Energy Center for the game anyway, just as a fan with a youth hockey team. Well, he'll come away with a pretty good souvenir.
Here is a story the Wild ran on their website from before profiling Deutsch.
Photo: Getty Images
For more hockey news, rumors and analysis, follow @EyeOnHockey and @BrianStubitsNHL on Twitter.