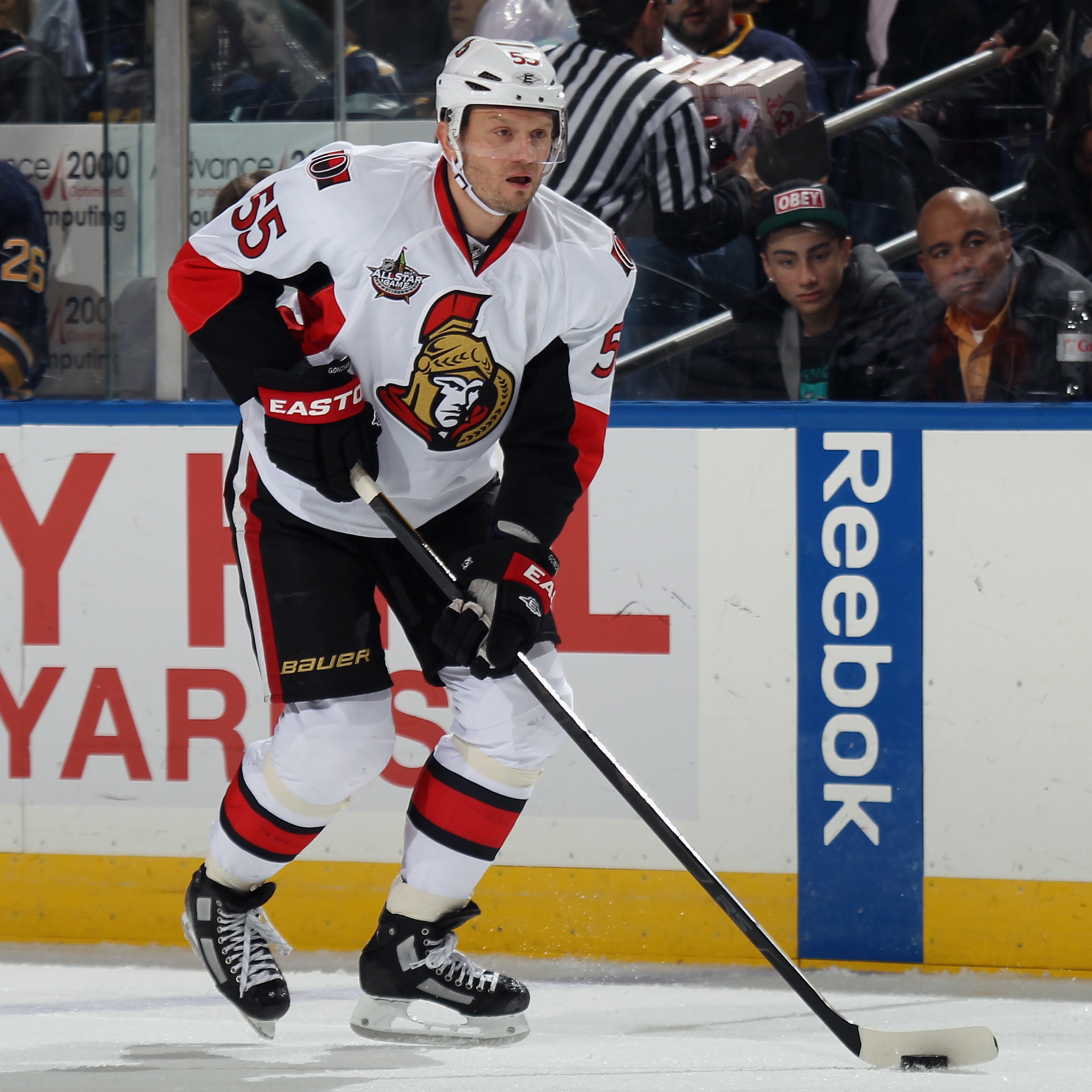 By: Adam Gretz
Before the season began the Ottawa
Senators
were penciled in by many to be among the worst teams in the NHL and a preseason favorite to land one of the top Russian prospects in the June draft, Nail Yakupov or Mikhail Grigorenko. Nearly two months into the season and the Senators have been a little better than expected, currently owning a 10-10-2 record following Friday's 6-3 loss.
It hasn't always been pretty, as they've been outscored by a significant margin during even-strength play and have had to rely on a number of third period comebacks (for the season, Ottawa is getting outscored by a 48-30 margin over the first 40 minutes, but owns a 32-26 edge in the third period). A large chunk of their wins came during a six-game winning streak at the end of October that included five games decided by one goal, including a pair of victories via the shootout.
The one difference for the Senators during that six-game winning streak compared to the rest of their season (where they have a 4-10-2 record) was a stunningly efficient power play that scored on seven of its 17 attempts, a stretch that propelled them to the top of the NHL's power play rankings. Entering Saturday's action, the Senators are still in the top-10 in the league in power play efficiency, converting on over 19 percent of their attempts, which is good enough for seventh in the NHL. This despite scoring on just two of their past 34 attempts, including an 0-for-4 showing in Pittsburgh on Friday night.
Over that stretch Ottawa has won just three of its 10 games.
One of the best indicators of future success on the power play is the total number of shots a team generates, and even when the Senators were clicking during their six-game winning streak, they weren't getting a ton of shots on goal. Over that six-game stretch the Senators generated just 31 shots on the power play over 40 minutes of power play time (or, obviously, less than one per minute) but still managed to put seven of them in the net for a shooting percentage of over 22 percent. That rate is unbelievably high on a team level and in no way something that should have been expected to continue. Since the 2007-08 season, no team has finished a full season shooting over 20 percent during 5-on-4 play.
In their other 16 games their power play shooting percentage is at 12 percent, which is closer to the league average and in the neighborhood of what the Senators were at during the 2010-11 season. The issue remains their inability to create more shots on goal, currently one of the worst teams in the league in terms of shots-per-minute on the power play. (On the other end of this spectrum, we looked at Chicago's struggling power play earlier in the season and pointed out that,
even though they weren't scoring goals, the number of shots they were generating was a positive sign
that should result in an improvement. Over the past three weeks Chicago's power play has caught fire and climbed 16 spots in the rankings.)
Even though the Senators, on paper, aren't as deep as other teams around the NHL they do have quite a bit of talent to throw a quality top power play unit on the ice with
Jason Spezza
,
Daniel Alfredsson
,
Milan Michalek
,
Sergei Gonchar
and
Erik Karlsson
. Ottawa signed Gonchar to a lucrative three-year contract prior to the start of last season with the hope that he would anchor its power play much the same way he did throughout his career in Washington and Pittsburgh. He's still a dangerous player on the man advantage, but Gonchar's game has declined a bit at the age of 37, and it almost seems as if the Senators power play is starting to run more through Karlsson, their 21-year-old, third-year standout.
Karlsson usually plays the right point (from the goalies perspective) and currently leads the team in power play shots, power play assists and power play points. He also carries the puck quite a bit, and while he's yet to score on the man-advantage this season, two of his assists on the power play this season have come on shots of his that were deflected or redirected on their way toward the net from the top of the right circle.
Still, for as good as Karlsson has been at times the Senators still need to find more more ways to create chances on their power play if they have any hope of hanging around in the Eastern Conference, because they simply haven't been good enough during even strength situations or received enough quality goaltending to do it any other way.
Photo: Getty Images
For more hockey news, rumors and analysis, follow @EyeOnHockey and @agretz on Twitter.