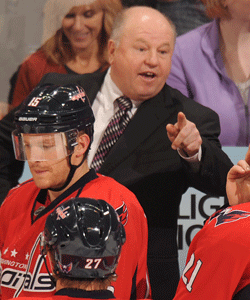 From the completely unsubstantiated rumors department, we present to the latest from Sportsnet's Nick Kypreos -- a typically solid insider -- on the Washington Capitals coaching situation. This is just a friendly reminder to consume this with one healthy grain of salt.
As a guest on Rogers Sportsnet's Hockey Central, Kypreos was asked about the situation in Washington at the moment, a city he once played in. His response sent the Caps fan base into a tizzy (transcribed quotes from Washington Times).
"A lot of speculation something could happen in the next 24-48 hours," Kypreos said. "The name being thrown out there is ex-Washington Capital, a centerman of mine, Dale Hunter."
The Capitals denied the rumor, calling it just speculation.
Kypreos played with Hunter in Washington during their stints in the NHL. Hunter has been the coach of the London Knights in the OHL for 11 years and his family is tied in with the organization. For his part, he denied being contacted for the job through the London Free-Press.
I don't think anybody could be surprised if Boudreau were to get the boot now. Because of the team's lack of success in the playoffs, he has been on thin ice for a guy who has won as much as he has in the regular season. But since they started the season 7-0-0, the Caps have fallen on tough times. Since then, they are 5-9-1 and in the past eight games they have been outscored 34-17.
What makes this time different then all the past rumors of his demise? Well general manager George McPhee failed to give a comment on Boudreau's job safety earlier this month when asked.
There have been issues this season with some of his players this season. Things haven't seemed as harmonious for the Caps after Boudreau was encouraged by McPhee in a new accountability theme with the team. That led to the benching of Alex Ovechkin in the final shift of the game -- one which the Caps eventually did score on. He has been poking and prodding Alexander Semin to get the most out of him, including scratching the Russian winger for a game.
Through it all, none of it has seemed to work much. Would a new coach like Hunter be what finally brings those guys back to form?
With their 4-3 win over the Coyotes last week, Boudreau became the fastest coach in NHL history to 200 wins. Still, here we are talking about Boudreau's job security. Again.
Photo: Getty Images
For more hockey news, rumors and analysis, follow @EyeOnHockey and @BrianStubitsNHL on Twitter.