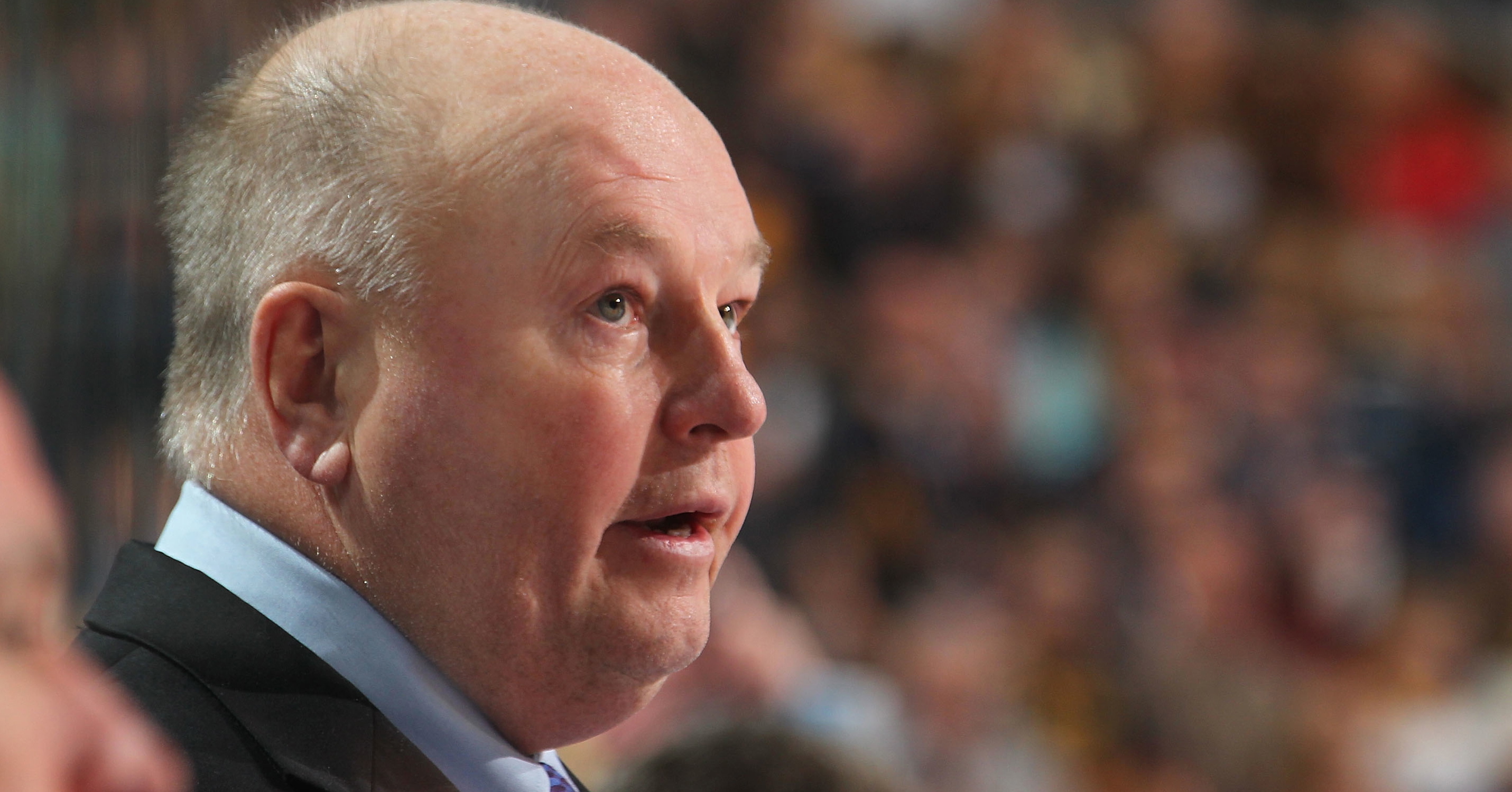 ARLINGTON, Va. -- The Washington Capitals announced on Monday morning that they have fired head coach Bruce Boudreau and named former player Dale Hunter to be his replacement.
Hunter will make his debut as the Caps' new boss on Tuesday night in Washington against the St. Louis Blues.
The rumor mill picked up late Sunday night when Nick Kypreos of Sportsnet reported that he was hearing rumblings Boudreau could be out as coach in 24-48 hours. He had it wrong. Apparently it was more like 12 hours.
"The reason for the change was we weren't winning, obviously," general manager George McPhee said. "This wasn't a slump. You can ride out slumps. This was simply a case of the players were no longer responding to Bruce. When you see that, as muc as you don't want to make a change you have to make a change.
"Bruce did a terrific job here, we're very proud of him, very proud of the work he did for us. But when the players aren't responding, you have to make a change."
Can you view the Boudreau, then, as a failure?
More NHL Coaching Changes
"I don't view this as a negative or a failure at all," McPhee said. "I think Bruce came in and did a great job, but his time was up."
Boudreau took over as the Capitals coach during the 2007-08 season, replacing Glen Hanlon, and in parts of five seasons behind the team's bench compiled an impressive 201-88-40 regular season record. The team qualified for the postseason in each of the previous four seasons but struggled to have the regular season success carry over to the playoffs, never advancing beyond the second round of the playoffs, and twice exiting in the first round. That includes the 2009-10 season when they won the Presidents Trophy with the best record in the NHL and were dismissed by the No. 8 seed Montreal Canadiens in seven games.
Replacing him will be the 51-year-old Hunter who has spent the past decade coaching the London Knights of the Ontario Hockey League and leading them to the Memorial Cup championship during the 2004-05 season. He owns the highest career winning percentage of any coach in the OHL's history.
Hunter, of course, also played for the Capitals between 1987 and 1999 during a career that saw him score 323 goals and compile over 3,500 penalty minutes in 1,407 regular season games. Along with the Capitals, he also spent time with the Quebec Nordiques and Colorado Avalanche.
"This has been my team ... I shouldn't say my team, it's Ted's [Leonsis] team but it feels like my team because I played here for so long and I have good memories here," Hunter said at his meet the media session after Monday's team practice here at Kettler Capitals Iceplex. "I taped every game for the last how many years?"
Asked what Hunter will bring as a coach, McPhee talked about the pedigree Hunter has.
"Hopefully [he brings] the same things that he brought as a player," McPhee said. "Obvioulsy Dale was an intelligent player, he had talent and he was tough, downright mean at times. We probably won't see a player like that again for a while. You don't see numbers like the numbers he's had. But he played 19 years in this league and I think the best thing you could ever say Dale Hunter was whether the game was home or away or he was injured or healthy or we were winning or losing, that guy played the same every night. And it was hard. So he had really a great NHL career over 19 years, played a heck of a lot of playoff games."
As for his jump from the OHL to the NHL? McPhee isn't worried.
"No one's been better at that level. In that Ontario Hockey League that's been around forever, he has the best winning percentage of all time. It's not a flash in the pan; one or two or three years. It's 11 years. He's turned that franchise into the best junior franchise going."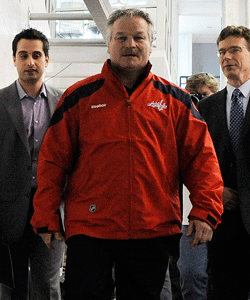 Hunter, the only player in NHL history to have 300 goals and 3,000 penalty minutes in his career, will bring his style back to Washington, a city where he is remembered fondly as one of only four retired jerseys in the rafters.
"We're going to be a hard team to play against," Hunter said. "We're going to be on the puck hard, forecheck hard, really responsible defensively, backside pressure coming back through the neutral zone so teams can't run-and-gun on ya."
Asked if his team will play the way Hunter did, he didn't exactly say yes.
"Too many referees out there now!" Hunter said, drawing a laugh from the massive media contingent. "There's an extra referee out there now."
One of the big concerns, then, is getting this team to respond. If Boudreau lost the team's ear, how can he expect to get it back? How will his approach differ from that of Boudreau?
"Every coach coaches differently," Hunter said. Sometimes the players hear your voice everyday and sometimes the players don't execute as well as they should.

"I'm a player's coach, but also the players will know when I'm mad at them. I'm stern on them, that's the way you have to be to win game. Mistakes ... everybody makes mistakes out there, but if he continues making mistakes than there will be repurcussions."
That sounds a bit like the accountability mantra Boudreau was preaching this season. One difference though is that Hunter will start with that attitude. It's much easier for players to accept it when you are always more stern than somebody like Boudreau who was a bit more of a player's coach who tried to turn into a demanding coach in the offseason. That's a difficult change to make.
This is already the second in-season coaching change of the NHL season, as the Blues, Washington's opponent on Tuesday night, replaced Davis Payne with Ken Hitchcock earlier this month.
The Capitals opened the season on a 7-0 record and the best record in the NHL, but have followed that up with a 5-9-1 run and have struggled the most over the past two weeks, getting blown out by Buffalo, New York and Toronto, while also dropping games to Nashville and Winnipeg.
Adam Gretz contributed to this report
Photo: Getty Images
For more hockey news, rumors and analysis, follow @EyeOnHockey and @BrianStubitsNHL on Twitter.