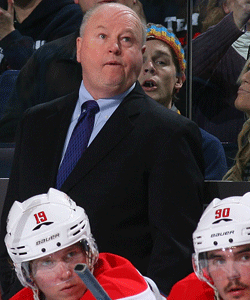 Bruce Boudreau waited a day to do his farewell media tour to the people in Washington. He didn't want to overshadow the debut of Dale Hunter as his replacement and the team. So when did start talking about his time with the Capitals on Tuesday, he was typical of the guy nicknamed Gabby for his propensity to talk.
In a radio interview on D.C.'s 106.7 The Fan, Boudreau ran the gamut what he learned and went through as a coach with the Capitals, a job he describes as a dream job.
"I'm sure there more options, but I tried an awful lot of things," Boudreau said when referring to pushing so many buttons. "I'm sure I would have thought of few more things."
But the elephant in the room was his relationship with star forward and team captain, Alex Ovechkin. There has been a lot of speculating that the two had, for lack of a better term, grown apart.
So, was there a rift between the two of them?
"Quite frankly maybe I'm naive, I have no idea," Boudreau said. "We both grew a little bit. When I first got here he was 21. I think everything else has been blown out of proportion."
When the two finally did talk on Tuesday (understandably, Boudreau wasn't interested in talking to anybody really on Monday) what did he have to say?
"I told him he was very fair to me and he made it easy for me to coach," Boudreau said.
It's interesting that Boudreau left the door open for speculation with some of his answers. On a couple of occasions he cited his own naiveté before denying any rifts or other such issues such as him "losing the team." We can't really say if there was a problem in their relationship or not, but from the press box, it didn't seem all peachy keen.
Is he just trying to say all the right things now or is he being completely honest? Knowing Boudreau, he's probably telling the truth, he's never been one to really hold back on saying what he thinks.
What about the other Russian winger he seemed to be butting heads with, Alexander Semin. Was he difficult to coach?
"Sometimes just because the language barrier and sometimes just because the penalties," Boudreau said. "Sometimes he was a pleasure to watch, sometimes it was frustrating. Like a lot of geniuses when they are flowing they are tremendous, but when they are struggling it's tough."
Boudreau could see the writing on the wall and while it was tough, he said he understands why he lost his job. It's almost like a coach at the college level who is asked to walk away from a job at his/her alma mater. It's home for them and they don't want to see it hurt. Better yet, it's the way some people view breakups -- if you truly care for the person, you hope they'll be happy.
Boudreau comes off that way, like he's leaving an ex-girlfriend behind in D.C.
"I was more concerned with the state of hockey here in D.C.," he said. "We've built something good here and I didn't want that to deteriorate."
As I wrote Tuesday night, St. Louis Blues coach Ken Hitchcock isn't worried about life after the Capitals for Boudreau. He expects him back and around hockey very soon. Boudreau feels pretty much the same. He better.
"Hockey is in my blood. My wife would kick me out of the house anyway if I stay around too long so I better do something."
Photo: Getty Images
For more hockey news, rumors and analysis, follow @EyeOnHockey and @BrianStubitsNHL on Twitter.