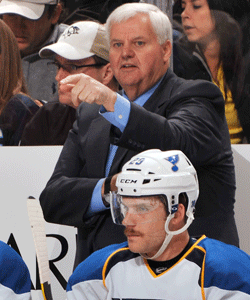 WASHINGTON -- When a team fires a coach midseason, what the St. Louis Blues are doing is exactly what that team is hoping for.
It was 11 games ago that the Blues fired head coach Davis Payne and brought in former Stanley Cup-winning coach Ken Hitchcock to fill his spot. Since then the Blues, once seemingly meandering, are now dominating. How else would you describe an 8-1-2 record under his watch?
They aren't flashy, they don't have any real superstars. So unless you've been paying really close attention, it might catch you by surprise that the Blues sit only one point behind the Chicago Blackhawks and Minnesota Wild for the best record in the Western Conference. But Surprise! They do.
The team has taken to Hitch like a fish to water. The same can't be said for the Hitchcock to the team. He has been around the NHL a while, but there was still plenty to learn.
"It's been a wee bit of a whirlwind," Hitchcock said. "But at least I know how to get to the rink so I'm doing good." That after getting lost for the first five days on the job.
"I think the two things was that surprised me was that we took two penalties and I didn't even afford myself enough time to put my head up and see who was in the box," Hitchcock said before Tuesday's game. "I knew somebody in our sweater was over there, but I didn't know the numbers. That's when I came home and said, 'Man, I got to get going here.' I would go home and visualize rotations, visualize numbers. I spend at least 30 minutes at home just visualizing how I want to match lines, how I want to get the right people out at the right times."
Well, so far so good. More like so far so great.
"We're starting to dial in and playing the way we need to play to win hockey games," Hitchcock said. "Doesn't matter who's in or who's out, when you play this well it's a good feeling."
Here's where I point out they are doing with defense. Considering who their new coach is, is anybody surprised by that? If you are, you haven't followed Hitchcock's career very much. This could as well be his motto: "The only way you can play defense in the league is you've got to sustain forecheck." That was Hitchcock after Tuesday's 2-1 win in Washington.
The Blues have the best defense in hockey right now. They are allowing the fewest goals per game in the league (2.00). They are only surrendering an average of 25.1 shots per game --including only 19 to the Capitals -- 1.5 shots fewer than No. 2 Detroit.
Statistically, the Blues were already doing a good job with Payne when it came to shots against and overall defense. It's just they are doing even better now under Hitch.
"We're still working through some things," T.J. Oshie said. "Those first few games, everyone is playing for a new coach and everyone's trying to make a good first impression and work hard and it seems like we haven't taken our feet of the gas since then."
One player who has floored it and taken off speeding since Hitchcock arrived is goaltender Jaroslav Halak. In his first season-plus in St. Louis since coming over from Montreal was less than superb. To put it frankly, he was one of the worst starting goaltenders in the NHL.
But check this out. In his last seven starts, Halak has a 1.57 goals against average and .937 save percentage. Now he's almost plays as well as fellow goalie Brian Elliott who has been, without a doubt for me, the most surprising individual player this season.
So when it comes to his goaltenders, Hitchcock doesn't have much to worry about. Just a little concern with Halak.
"The only time that we're nervous is when he has the puck," Hitchcock said of Halak. "So when he has the puck we're all nervous. We've got to fix that. But he's solid, he's been good, both goalies have been great. I trust both of them. But we've got to clean up Jaro when he goes out to play the puck because there's miscommunication there. If we can clean that up, he can have a really big impact on us winning games."
A lot of people think that if you have two goalies you really have none, like the old adage about quarterbacks in football. In most cases, that is true. It's usually because the starter is struggling and a coach is looking for the best fit. In St. Louis they have two because right now neither deserves to come off the ice.
It really seems that Hitchcock is having a really big impact on the entire team winning games. You can't argue with results.
"The first three games felt quick. One of the reasons it did is that, I've never had a card. I carry a card now because I'm still getting used to the players," Hitchcock said. "Here's it's like get behind the bench and get coaching. So I think it's hard. I think it's a lot harder than I said it was and a lot harder than I thought it was."
His team is sure making it look easy.
"I think first game it was pretty simple," Oshie said about the change in coaches. "Getting pucks behind the dmen and getting as many shots on the net and things like that. We're still working a few things out. Other than that, it's going really well."
Hard to argue.
Photo: Getty Images
For more hockey news, rumors and analysis, follow @EyeOnHockey and @BrianStubitsNHL on Twitter.