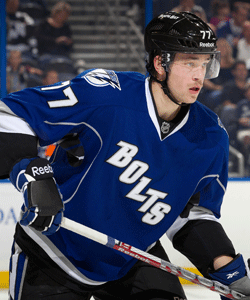 The Tampa Bay Lightning signed young defenseman Victor Hedman to a five-year contract extension on Wednesday, locking up their No. 1 draft pick in 2009 until the age of 26.
"We are extremely pleased to announce that we have agreed to a five-year contract with Victor," general manager Steve Yzerman said. "He has shown tremendous growth as a player in just more than two seasons in the NHL while also becoming a key member of our team. We look forward to his continued development in a Lightning uniform."
Since he was drafted, Hedman has been with the Lightning, making the team's roster and sticking. He is still coming into his own at the NHL level, obviously, but he has a nice foundation. Last season in 79 games the tall defenseman had three goals and 23 assists.
This season he has a couple of goals and is second on the team in average ice time. The idea is that Hedman will be around for a long time to anchor the blue line.
But his defensive effort that has been just as big for the Bolts. With his big frame, he's already shown he's capable of throwing his weight around a bit on the ice and deliver some big hits. He showed some mistakes early in his career in his own zone, but those have largely been cleaned up. That's to be expected with an 18-year-old.
"I'd like to thank our owner, Mr. Vinik, and of course GM Steve Yzerman for helping me move forward in my career," Hedman said. "I love it in Tampa Bay with the Lightning and I will do all I can to help this organization be successful on and off the ice."
Like most teams, the Lightning didn't release any financial numbers with the contract. However, the almost always reliable Bob McKenzie reported he was hearing the deal is worth about $4 million per season.
If that is correct, and there's no reason to think it wouldn't be, you have to like the deal for Tampa Bay. They don't have to worry about any restricted free-agency headaches with one of their most important players, a building block for the future to complement Steve Stamkos in front of him. With the clear potential to become one of the better all-around defensemen in the NHL, it's a nice deal for both sides.
Photo: Getty Images
For more hockey news, rumors and analysis, follow @EyeOnHockey and @BrianStubitsNHL on Twitter.