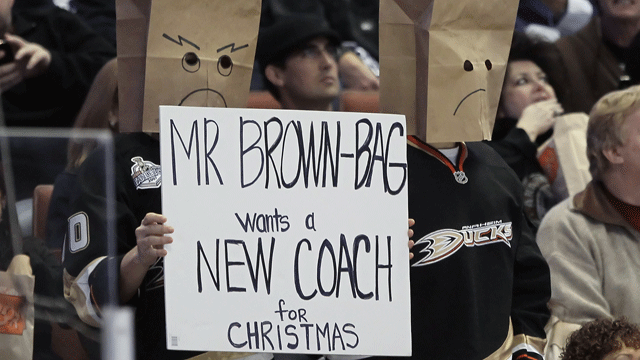 The Anaheim Ducks couldn't buy a win. They had lost seven straight games and had only two wins in 18 games going into Wednesday.
So for finally getting a win by beating the Montreal Canadiens 4-1, head coach Randy Carlyle was fired. Literally, within an hour of winning the game. At the time of the firing, the Ducks announced the hiring of Bruce Boudreau, the former Capitals coach fired just 65 hours earlier, with a two-year contract.
"I was shocked," Teemu Selanne said. "I didn't see this coming. But obviously with the situation, we were expecting something was gonna happen."
The Elias Sports Bureau points out that is the quickest turnaround for a coach in NHL history.
Carlyle was the third coach canned this week. That means in the span of three days a former Stanley Cup-winning coach (Carlyle), Stanley Cup-finalist coach (Paul Maurice in Carolina) and former Jack Adams Award-winning coach (Boudreau) were all terminated. If anything shows how much of a win-now business the NHL (and all professional sports for that matter) is, this is exhibit A, B and C.
So there are a few of lesson in there. OK, there are a lot of lessons in there, but we're going to talk about two.
More on Ducks
More NHL Coaching Changes
The first lesson is the easy one: Don't let your team suck. It's obvious to say, but that was the primary reason Carlyle was fired on Wednesday, the team was playing awful hockey for the last month and a half. None of the tumult in Anaheim would have been spinning like the tea-cups at Disneyland if they could win a game or two.
To illustrate the Ducks sucktitude, the Battle of California blog dug up this little nugget: In the first eight minutes of periods this season -- any period -- the Ducks are a minus-24 in goal differential. In the other 12 minutes, they are even. That doesn't bode well for a coach.
"They didn't seem to believe in themselves anymore, and I hadn't seen that in six years here," Ducks general manager Bob Murray said.
The second lesson is one for general managers. Don't wait to make a move you think needs to be made. The Ducks had hit a point where a shakeup was necessary. That's why they have been talking about trading star young winger Bobby Ryan.
Then Boudreau became available. The move was announced on Wednesday night, but don't be fooled into thinking that wasn't a decision already made. It's not often a coach is fired right after a game, a win no less.
Murray admitted on Thursday that he called Capitals general manager George McPhee very soon after Boudreau was fired. Considering Murray was already looking for "a new voice," as he put it, Boudreau sort of fell into his lap.
On Wednesday Boudreau was doing an interview with 106.7 The Fan in Washington D.C. about his firing. During the call he was walking in the airport and he told the hosts he was headed to Toronto to see his mother. That might have been a white lie it turns out. Instead he was getting ready to see his new employer in Anaheim.
Good coaches don't last long when they are on the market. And make no mistake, Boudreau is a good coach. You don't go 201-88-40 by being a poor coach. It wasn't until he came aboard that the Capitals took off and became a regular-season stalwart. This situation can be similar.
"It's great to be here," Boudreau said. "I don't think opportunities like this come around every day, with the talent we have here. I jumped at it."
We saw it earlier this season with the St. Louis Blues, too. They obviously wanted Ken Hitchcock to be their coach. There was a lot of talk that the Columbus Blue Jackets were going to fire Scott Arniel and name Hitchcock his replacement. So what did the Blues do? Fire Davis Payne somewhat unexpectedly then announce Hitchcock as his replacement.
Speaking of Hitchcock, he comes off looking like a prophet. It was just on Tuesday he predicted that within 72 hours Boudreau would be back in rinks. Nailed it.
So when you see somebody you want, don't hesitate. Get while the gettin's good. Or should I say get while the gettin's still there to get. There are still a handful of teams who could potentially make a coaching change. The Montreal Canadiens don't have the most secure coach. Same goes for the Blue Jackets, Colorado Avalanche, Calgary Flames, New York Islanders and even Los Angeles Kings. That would have been a lot of teams interested in Boudreau's services. So instead of taking a chance, Bob Murray decided to cut the line now and be the first to reel in the fish he wanted.
The third lesson? Star players will always win out in power struggles. Or at least, coaches will never win them.
Was there a battle between Carlyle and Ryan in Anaheim that led to so many trade rumors regarding the 24-year-old? Hard to tell for sure, but as of yesterday it seemed pretty clear that not all was right near the Magical Kingdom.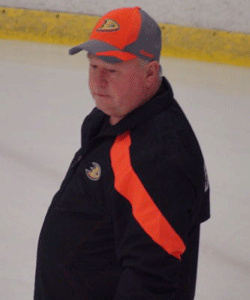 The Ducks were shopping a player that every other team in the NHL would love to have. That right there is probably a sign you have somebody worth keeping.
Then there was the incredibly ... odd quote from Carlyle to Ryan. When Ryan got around to talking to Carlyle about the rumors that had Ryan admitting he wouldn't be surprised if he were traded, this was the response from his head coach. "[He] has to find that inner peace in himself to deal with it."
Pretty rough. Never seen a coach give a response like that before. Some might say tough love. Others might say tough times for their relationship.
Obviously this shares a similarity to Boudreau in Washington. The two sides will continue to deny it, but it won't stop the speculating that not all was great between Boudreau and Alex Ovechkin. There are some who will believe for the rest of their time that Ovechkin pushed Boudreau out.
In the end, it seems as though Murray came to his senses and got rid of Carlyle. There is certainly no guarantee this brings an end to the Ryan speculation, but it should. The Ducks got their shakeup with this moves and don't need to trade away Ryan. He's still young and talented, it would be a trade they would likely rue forever in Anaheim.
"I'm hoping everything settles down right now," Murray said, "and I think it will."
That came right after Nick Kypreos, the one who first reported Boudreau was on his way out in Washington and reported the trade rumblings on Ryan, tweeted that Ryan is off the market.
Now, under Boudreau, Ryan will be an asset. It's a situation somewhat similar to what he walked into four years ago in Washington. There are some very talented skill players up front. It will be interesting to see if he does what he did in Washington and just let them go crazy. Open up the ice and let them loose. Ryan would fit into that scheme very nice.
I love the turn of events for the Ducks. Much the same as Boudreau in Washington, Carlyle's time in Anaheim had clearly just come to an end. It was a great run that included a Stanley Cup.
"I want to think Randy for six-plus years of outstanding work," Murray said. "He's a terrific coach and will be a terrific coach again."
But obviously what Carlyle was doing was no longer working. There is no reason the Ducks should be so low in the standings when they have last year's Hart Trophy winner Corey Perry on the roster along with one of the best skill players of all time in Selanne, who is still playing at a high level.
They might have just bought themselves a lot more wins in future seasons.
More Coaching Carousel News Here
Photo: Getty Images/Ducks Twitter feed
For more hockey news, rumors and analysis, follow @EyeOnHockey and @BrianStubitsNHL on Twitter.