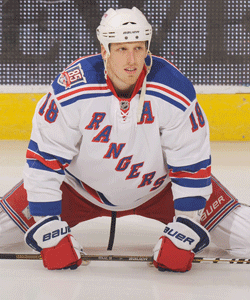 The Rangers have been incredibly quiet when it comes to the recovery of Marc Staal from the concussion he suffered at the hands of his brother Eric, the Carolina Hurricanes captain. But on Thursday the silence was broken.
Staal has begun taking light skates with some of his Rangers teammates, something that can only be categorized as a positive. But we learned from the Sidney Crosby situation, there is still a long way to go from here.
"Return long way away," Staal told the media in Carolina, where the Rangers play Thursday night, "but plan is to come back this year."
That cheer you just heard was the entire Rangers fan base in New York. Staal is a defensive force for them, a key cog on the back end. With the way the team is playing without him, the idea of his return is enough to excite the fans that the Rangers could be serious contenders in the East.
Staal was shutdown just before the season began. At the time, the Rangers said that it was just precautionary. It soon became much more than that. But his concussion actually goes back to last season, Feb. 22 to be exact.
Despite suffering the concussion, Marc played out the rest of the season with the Rangers, something that frankly shouldn't have happened. But he said on Thursday that he had convinced himself he was OK to play, that perhaps he "sugar coated things." In the end, though, it was his decision to play.
This is the hit from brother Eric that caused the concussion.
It's a very interesting dynamic, brother injuring brother. And considering the blood involved in the situation, it's no surprise that Marc said he holds no grudges against brother Eric. Instead he credits "my brothers, no matter how strange that sounds" for the support they have given him.
Now it's a matter of the Rangers giving him the medical support he needs to get right. First and foremost is his well-being. Only once they are certain that is OK will the hockey part come back into play.
But I have no doubt the Rangers have no problem being patient if it means they can get Staal by the end of the season at 100 percent.
Photo: Getty Images
For more hockey news, rumors and analysis, follow @EyeOnHockey and @BrianStubitsNHL on Twitter.