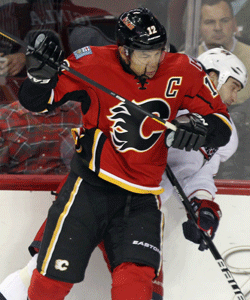 On Thursday, one bit of trade speculation was squashed when Ducks GM Bob Murray said he thinks the talk of Bobby Ryan being traded is going to die down now that the team hired a new coach in Bruce Boudreau. It worked pretty well, the dreams have, for the most part, stopped.
Now Calgary Flames GM Jay Feaster is taking his shot at stopping the rumors surrounding one of his Stars. That would be captain Jarome Iginla. The speculation has been circling around him wildly for some time. What team would love to have a veteran leader and scorer like Iginla?
While the Flames are struggling, Feaster told Randy Sportak of the Calgary Sun. Rather emphatically, too.
"It is not true," Feaster emphatically stated Friday morning at the Saddledome. " Jarome Iginla has not been asked to waive his no-trade and Jarome Iginla has not demanded a trade or asked for a trade. There is no list. There is no smoking gun. There is nobody on the grassy knoll.
"What else do you need?"
Deals have reportedly been so close to done, all they needed were for Iginla to waive his no-trade clause and accept to be moved. The Montreal Canadiens were one team rumored to be close. Others have suggested the Dallas Stars, Iginla's original team, would be interested.
All the talk seems to have Feaster at his wit's end.
"Here's the trouble. When it's a non-story, and we have to stand here and rebutt it, the rebuttal becomes the story. It puts us in a position that I don't know is fair to the organization and I know is not fair to Jarome," Feaster said.
"One of the questions I have is where do these things start? Are they legitimate sources or is it a blogger in the basement in his underwear that says, 'This is the rumour du jour' and you guys feel the need to track it down."
Ah yes, the old blogger stereotype. Well for the record I would like to state that I work in my pajamas, thank you very much.
But seriously, I see where Feaster is coming from, assuming he's telling the truth. It's a Catch-22, he can't let the rumors just fester and become a distraction for his team, so he has to address them. By doing that, he in a way legitimizes the rumors.
The best thing he could do is exactly what he's doing right here: Don't mix any words and flat-out deny. There will be plenty of people who still won't believe him, but it's his best option if he wants to quiet the crowds.
Now maybe he'll be singing a different tune when the trade deadline draws closer.
One player who could be on his way out of Calgary is Cory Sarich. According to Roger Millions (what a last name) of Sportsnet, Sarich has asked for a trade. Yes, that's correct, Sarich with a trade request.
With the news that Mark Giordano is going to be out indefinitely after partially tearing tendons in his leg, the Flames might not be interested in getting rid of a defenseman at the moment. But we'll see. The trades could pick up for the Flames.
Just know that right now they don't include Iginla.
Here is Feaster addressing the media on the matters at hand.
Photo: Getty Images
For more hockey news, rumors and analysis, follow @EyeOnHockey and @BrianStubitsNHL on Twitter.