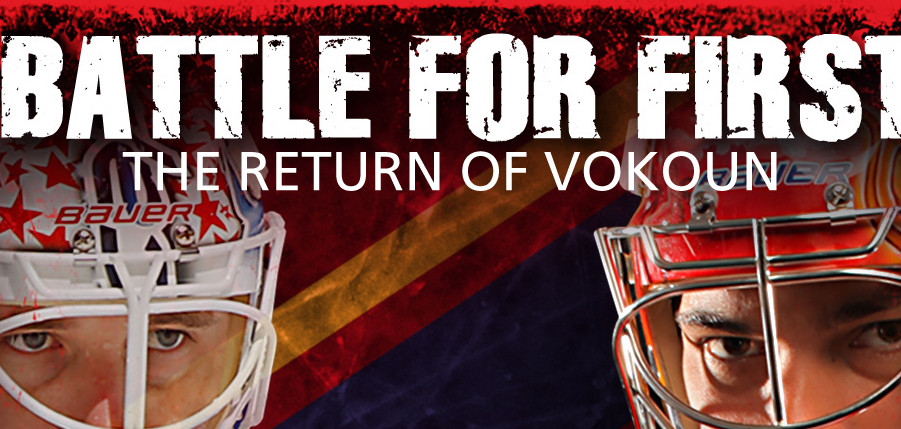 By: Adam Gretz
The Florida
Panthers
are off to their best start in years, and they are pretty pumped up for Monday's game against the Washington
Capitals
.
For one, the Panthers are in the rare position of entering the game ahead of Washington, the team that's owned the Southeast Division for the past four years, in the standings, and it was expected to be a game against their former long-time goalie,
Tomas Vokoun
.
Vokoun, of course, spent four seasons as the starting goalie in Florida and did a stellar job given the circumstances surrounding him (such as a team that routinely gave up the most shots in the NHL) before signing with the Capitals as a free agent this summer. Over the weekend,
the Panthers official website
was decorated (and still is as of Monday afternoon) with a page hyping up the matchup in an effort to sell tickets, with a massive picture (seen above) and headline that reads "Battle for first: The return of Vokoun".
Unfortunately for the Panthers, the Capitals didn't get the memo (and probably don't care) as Vokoun is expected to spend Monday's game on the bench while
Michal Neuvirth
gets the start from head coach Dale Hunter.
So much for that. Of course, it needs to be pointed out that Vokoun has already faced the Panthers this season, stopping all 20 shots for a shutout in a 3-0 win back in October. That game was in Washington. The significance to this game is that it's the first meeting between the two teams this season in Florida.
Said Vokoun,
via Tarik El-Bashir of the Washington Post
, "I'm a paid employee and I don't make those kind of decisions. I'm a hockey player and I'm here to play games."
"It's just a choice, there's not much to explain," said Hunter.
This isn't the first time this season a coaching decision by the Capitals regarding the starting goaltender made some waves. If you think back to the season opener, former coach Bruce Boudreau
opted to start Neuvirth over Vokoun
against the Carolina
Hurricanes
, a game the Capitals would eventually win in overtime.
Following that announcement Vokoun's agent, Allan Walsh, said that decision
could be "perceived as a slap in the face."
Both goalies have struggled this season for the Capitals, though Vokoun does have slightly better numbers entering Monday's game with a .909 save percentage in 19 starts, compared to Neuvirth's .878 mark in his nine appearances. Neuvirth started the Capitals' most recent game, a 3-2 overtime win against the Ottawa
Senators
, so perhaps Hunter just wants to stick with what worked to get him his first NHL win behind the bench.
Vokoun signed
a one-year, $1.5 million deal
with the Capitals over the summer, shortly after the Panthers signed former Capitals goaltender
Jose Theodore
to a two-year deal
that pays him an identical yearly salary
.
Photo: panthers.nhl.com
For more hockey news, rumors and analysis, follow @EyeOnHockey and @agretz on Twitter.