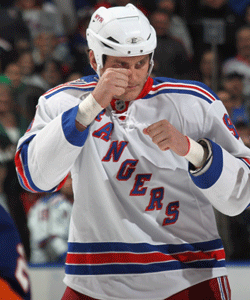 If your Facebook news feed is anything like mine, Dec. 7 was filled with loads of remembrances for Pearl Harbor Day, 70 years ago this year. Despite nobody I saw posting about never forgetting the day weren't even born, it was a worthwhile message nonetheless. Never forget the lessons and hardships of the past.
I would like to say the same about Derek Boogaard, the former Minnesota Wild and New York Rangers enforcer who died over the summer of an accidental overdose, a deadly mix of alcohol and Oxycodone. Don't forget his life and death -- same goes for Rick Rypien and Wade Belak.
In case you missed it, I strongly suggest you carve out a good chunk of time to check out the recent three-part story from the New York Times on Boogaard's life, an award-worthy story. It's incredibly well done. It's moving. I am not ashamed to admit that by the end of the story, I was on the verge of tears.
New York Times: Punched Out. Part I | Part II | Part III | Video
Of the many things to come out of the story, one was the revelation that Boogaard's brain, which had been donated to the Boston University study exploring Chronic Traumatic Encephalopathy (CTE), was showing shocking amounts of the condition already. To put it comparatively, Boogaard's 28-year-old brain had a worse CTE condition than the brain of Probert, who was 46 years old when he died.
Now I know what you're going saying: "Oh great, another anti-fighting story." Well, yes, for the most part this is. I have made my unpopular opinion on this topic made known in the past. But the latest information on Boogaard, the fact that his brain was severely damaged, it's worth revisiting.
Instead of just me standing on a soap box, I turned to Dr. Ricardo Komotar for some information on the discussion. Dr. Komotar is Assistant Professor of Clinical Neurological Surgery at the University of Miami School of Medicine. He graduated summa cum laude with a B.S. in neuroscience from Duke University, spending a year at Oxford University in England to focus on neuropharmacology. He received his medical degree from The Johns Hopkins University School of Medicine with highest honors and completed his internship and neurosurgical residency at Columbia University Medical Center/The Neurological Institute of New York, followed by a surgical neurooncology fellowship at Memorial Sloan-Kettering Cancer Center to specialize in brain tumors.
So he knows a thing or two about the brain. I'm sure you can probably assume the answer, but what's his take on fighting in hockey?
"I think it should be 100 percent banned," Dr. Komotar said. "It's clearly unnecessary violence. Fighting is something you can obviously eliminate immediately. When you're talking about eliminating head blows in football, you're kind of limited on what you can do without completely changing the sport. Fighting in hockey seems like something that you could eliminate without changing the sport at all. You could make a big change, I think, without really altering the fundamentals of the game."
Which is true. The game itself wouldn't be effected. They still play ice hockey the same way in the Olympics and NCAA, do they not?
Dr. Komotar continued.
"Think about it. The only reason fighting is allowed is for entertainment purposes. It has nothing to do with the outcome of the game, it has nothing to do with the competitive nature of the game. They keep it because the people that go to hockey games want to see a fight. It's kind of sick. You're letting people do bare-knuckle boxing just so the crowd gets a tease out of it. It's something that has nothing to do with the game and only risks the players just so the crowd can get a thrill. It doesn't make sense to me.
"It shouldn't be something you're warned against. I mean the refs don't even break it up. That's crazy. The refs should just break it up. It shouldn't be endorsed.
"I mean to me it seems very straight forward, [removing fighting] is the clear, logical thing to do."
The hockey purists say fighting does play a role in the game. It's the old reasoning that the threat of violence actually prevents violence. Devils GM Lou Lamoriello put it this way.
"Fighting is part of our game," Lamoriello said. "It impedes more injuries to happen because of what potentially can happen with people taking liberties they shouldn't take."
I have heard this rationale for a long time and I just don't buy it. First of all, if Player A does something to injure Player B, a lot of times a fight ensues not between those players or even involving one of those players. Instead, it will be enforcer vs. enforcer. Where is the deterrent for a player that isn't answering for his own hit but letting somebody else do the dirty work?
But moreover, I believe there is actually evidence to show how backward this thinking is. This season, concussions in the NHL are down 33 percent, the league says. That's a very steep drop. And what is the difference between this season and past seasons? Why, Brendan Shanahan as the league disciplinarian, of course.
Under his short time in the role, he had made a concentrated effort to remove dangerous plays from the game. And if the stats are to be taken at face value, it seems to be working. It leads me to the conclusion that nobody can better prevent dangerous plays than the league office itself. Getting serious on fines and suspensions is doing a better job getting the dirty and dangerous hits out of the game than any enforcer ever did.
With all that said, getting rid of fighting won't happen any time soon. Commissioner Gary Bettman reiterated that point again to the Times, saying that there is no appetite for among the powers that be in the league to remove fighting from the game.
Here is the third of three video segments from the Times that deals more with Boogaard's brain study. The Bettman interview begins around the 9:30 mark.
But here's the crux of what inspired me to write about this topic again today. The state of Boogaard's brain was so deteriorated, it took the researchers at BU by surprise. Of the entire story, though, this is what perhaps caught my eye the most.
Last winter, a friend said, a neurologist asked Boogaard to estimate how many times his mind went dark and he needed a moment to regain his bearings after being hit on the head, probable signs of a concussion. Four? Five? Boogaard laughed. Try hundreds, he said.
Needless to say, things like that have caused the conversation about fighting in the sport to start up again. It's no wonder why Boogaard's brain was so deteriorated.
Here is something Bettman had to say at the Board of Governors meeting, and I quote the Associated Press. "He [Bettman] said he considers head trauma that comes from fighting different from injuries that come from hits because fighters are willing combatants and not taken by surprise."
"I use one word for that," Dr. Komotar said. "Ridiculous. Head trauma is head trauma. The origin of the head trauma doesn't matter. You get hit bare knuckle in the right spot, it can be a lot worse than if you get hit against the wall by a check, and vice versa. The reason for the head trauma and the situation for the head trauma has zero impact on its chronic effect. It's head trauma no matter how you slice it."
Bettman also said from the BOG meeting this week that there is not enough evidence to draw conclusions about the link between concussions and the CTE that has been found not only in Boogaard's brain, but the other three brains of former enforces that have been studied.
That is true. There is no direct causality and there might not ever be one.
"I think it's possible [to draw a causality line] because you're talking about ... everyone's brain is different," Dr. Komotar said. "Everyone's ability to have a concussion and recover is different, but I think what we've learned, especially in the last five or 10 years, is that it's not the force of one head injury. It's the repetition and the fact that you're not allowed to recover.
"Back in the day, people would have concussions and they wouldn't be allowed to recover the way they are nowadays. I think what is very clear is that repetitive concussions over a short period of time ... as those numbers go up, the risk of chronic brain damage increases. You'll never have a direct causality. Ten concussions equal this many years to your brain injury. Because every one's brain is different, and every concussion has a different amount of force. But what is known is that if you have three concussions in the course of three months, that's a lot worse than just one big concussion and then you're allowed a year to recover. Which is why the NFL and NHL have such strict concussion rules now."
It comes across to me as the league hiding behind a guise, ignoring the possibilities of the situation. What gets me is that since it can't be proven yet (maybe never), the NHL seems to want to go on with the status quo. It's akin to hearing that seat belts have a chance to save your life in the case of a car accident, but since you can die in a crash with your seat belt on, too, I'll just continue not to wear one.
It also reminds me of an argument that people make regarding religion. Some say they believe because if they are wrong, they won't know any better, but if the non-believer is wrong, then they will spend an eternity in Hell. Wouldn't you rather be safe than sorry? That's the same situation here, in my mind. Why not be proactive, be on the safe side? This really is a matter of people's lives.
It's not just about players dying, but the quality of their lives after playing. Nobody can know for sure, but if Boogaard were still alive, his quality of life wouldn't have been the same down the line.
"Tough to predict exactly [Boogaard's future condition], but the thought is that it [CTE] causes essentially an early Alzheimer's and/or Parkinson's condition," Dr. Komotar said. "So something like Mohammed Ali. Overall, it's the death of neurons from chronic and repetitive head trauma, which leads to neuronal cell death. So all the brain cells start dying and the brain starts looking like someone who is 30 or 40 years older. You get an early dementia, an early Alzheimer's and an early Parkinson's. Again, is it 100 percent correlated? No. But that's the thought and it's been known to happen, as it did in Mohammed Ali."
That would likely have been the result for a player who grew up fighting, made his living as an enforcer. I'm not trying to say here that the number of concussions played an impact in Boogaard's death. Sadly, the use and abuse of prescription drugs is as big a concern as anything.
But the issue of repeated concussions is very concerning. We are learning all the time more about them and the damage they can do.
"What's interesting is that the old school of thought -- and I mean about only 10 years ago -- the thought was that you had to have a loss of consciousness to have a concussion," Dr. Komotar said. "What people are realizing now is that less than 15 percent of all concussions involve a loss of consciousness. So you're talking about the vast majority of concussions, the person never loses consciousness. So you're talking about 80 percent of the time back in the past, people were having concussions and not recognizing it, then going back into action. That's where you get the real damage. People are starting to recognize now that you don't need a loss of consciousness. They are holding players out. They have much more stringent rules in terms of re-entering the game and that allows the brain to recover and it reduces the chance of chronic injury."
Now I've been watching hockey my whole life. I've gone to games since I was a boy. I understand that fighting is as much a fabric of the game as the ice they skate on itself. It's a tough, physical game and hockey fans are proud of the game's history, which includes fighting. I get that. It's such a small minority of people that want to see fighting removed.
Nobody likes somebody who just points to a problem. People want solutions.
That's why I'm here not to propose a removal of fighting from the game, instead, I have a different idea. Would it be popular among the players and coaches? Of course not. I can't think of anything that would. But nevertheless, here's my idea.
When players fight, they are required to go to the quiet room, the dark and obviously quiet room where players are sent for 10 minutes when it's believed they might have sustained a concussion. Every time a player gets into a fight, they are evaluated through the concussion screening process and if they are found to have sustained a concussion, they be diagnosed as such.
Essentially I'm turning the penalty for a five-minute misconduct into a 10-minute misconduct. It's a stiffer penalty, for sure, but it allows for fighting to remain in the game and it could drastically reduce the amount of damage being done to these players. As Dr. Komotar pointed out, it's the increased number of concussions a person sustains in a short amount of time that is so damaging. The thought is that this idea would go a long way in helping to avoid that problem.
But I'm sure it will be fought all the way.
Photo: Getty Images
For more hockey news, rumors and analysis, follow @EyeOnHockey and @BrianStubitsNHL on Twitter.