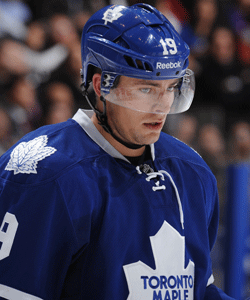 WASHINGTON -- When the Toronto Maple Leafs traded Francois Beauchemin to the Anaheim Ducks for Joffrey Lupul and Jake Gardiner, there was sort of a sense that the Leafs were getting the worse end of the deal. While it wouldn't be fair to call Lupul and Gardiner the equivalent of a bag of pucks and a zamboni, it didn't seem like the greatest return in the history of trades. Sure, the potential was there, but you never know.
Lupul 's time in Anaheim was anything but spectacular. After a couple of very solid seasons in Philadelphia, he wasn't finding the grass greener on the West Coast. Over a season and a half with the Ducks, Lupul played in only 49 games and had 15 goals with 12 assists. Injuries were as much a concern as anything.
As for Gardiner, well, he hadn't played a single minute in the NHL, so he was pretty much an unknown commodity.
But now, not even a year later, it's looking like one sweet deal for the Leafs and GM Brian Burke. That's because Lupul is scoring at a rate he never has before and has formed one dynamic duo alongside Phil Kessel, the sniper the Leafs have long been looking for.
As of this point, Lupul already has 33 points in just 29 games. That's good enough for the fourth-most points in the league, tied with Henrik Sedin and one ahead of Jonathan Toews. His 13 goals are almost halfway to his career high of 28, which he posted in his first go-round with the Ducks. More impressively, his 20 assists are just six behind his career high he set with the Flyers in 2007-08.
It's been partly a matter of fitting in, partly a matter of health. Despite having made two stops in his career in Anaheim, Lupul said that his comfort level playing with the Leafs this season is at an all-time high.
"Oh definitely. I feel probably the best I've ever felt," Lupul said. "Partially health wise and partially just because when you're getting results and things are going your way you get some confidence. Right now I feel like every game I can be a difference-maker whereas in the past sometimes your confidence is going back and forth. It's definitely a good situation for me, playing first-line minutes."
That's like the old idea some women try to use on men. Treat him the way you want him to act and watch him become that guy. Or something like that. The point is now that Lupul is getting first-line time, he's giving first-line production.
A lot of that has to do with the psyche, too. Confidence can go a long way for a player, not only confidence in himself, but also confidence from the coaches. It can be like a security blanket, a reassurance that allows a player to play looser. Lupul has that going on, too.
"When you make mistakes, which we've made lots of this year, it's good to know the coach trusts you and you're going to be back and you're going to be given a chance to make amends for it," Lupul said.
It becomes a chicken or the egg argument. Lupul is playing better because the coach trusts him while coach Ron Wilson trusts Lupul because he is playing better. Whichever came first, the result is one quality chicken.
Of course, we'd be remiss if we didn't mention more about the pairing with Kessel. Even including the NHL's superstar twin brothers of Daniel Sedin and Henrik Sedin, there has been no better two-person tandem this season than Lupul and Kessel.
We all knew what Kessel was capable of, but this season he is taking things to a higher level.
"Phil's taking the next step in his development as a player," Lupul said. "I think you can see that game in, game out he's better this year than he was last year. I mean last year he'd have the big games where he would be really dominant. Now it seems they are happening more often."
At 24, Kessel is really taking his game to new heights. With his league-best 18 goals, he's well on his way to smashing his career best of 36, which he set in 2008-09, his final season with the Bruins.
But Lupul knows they won't continue to enjoy this kind of success without more hard work.
"We realize things are going to get tougher on us as the season goes, especially on the road, matching up against other teams' best D and checkers," Lupul said. "That's a challenge we both have to be up to."
As for Gardiner, he is blossoming into a very good defenseman for a rather full corps in Toronto. The rookie has worked his way into the rotation in a big way, logging more than 20 minutes in a game on 16 occasions this season. The former first-round pick by the Ducks is finding his own niche in Toronto.
It's not like Francois Beauchemin has been bad for the Ducks. He hasn't. But this is sure looking like one hell of a deal for Burke.
Now if he could only figure out how to fix that atrocious penalty kill, they'd really be on to something in Toronto.
Photo: Getty Images
For more hockey news, rumors and analysis, follow @EyeOnHockey and @BrianStubitsNHL on Twitter.