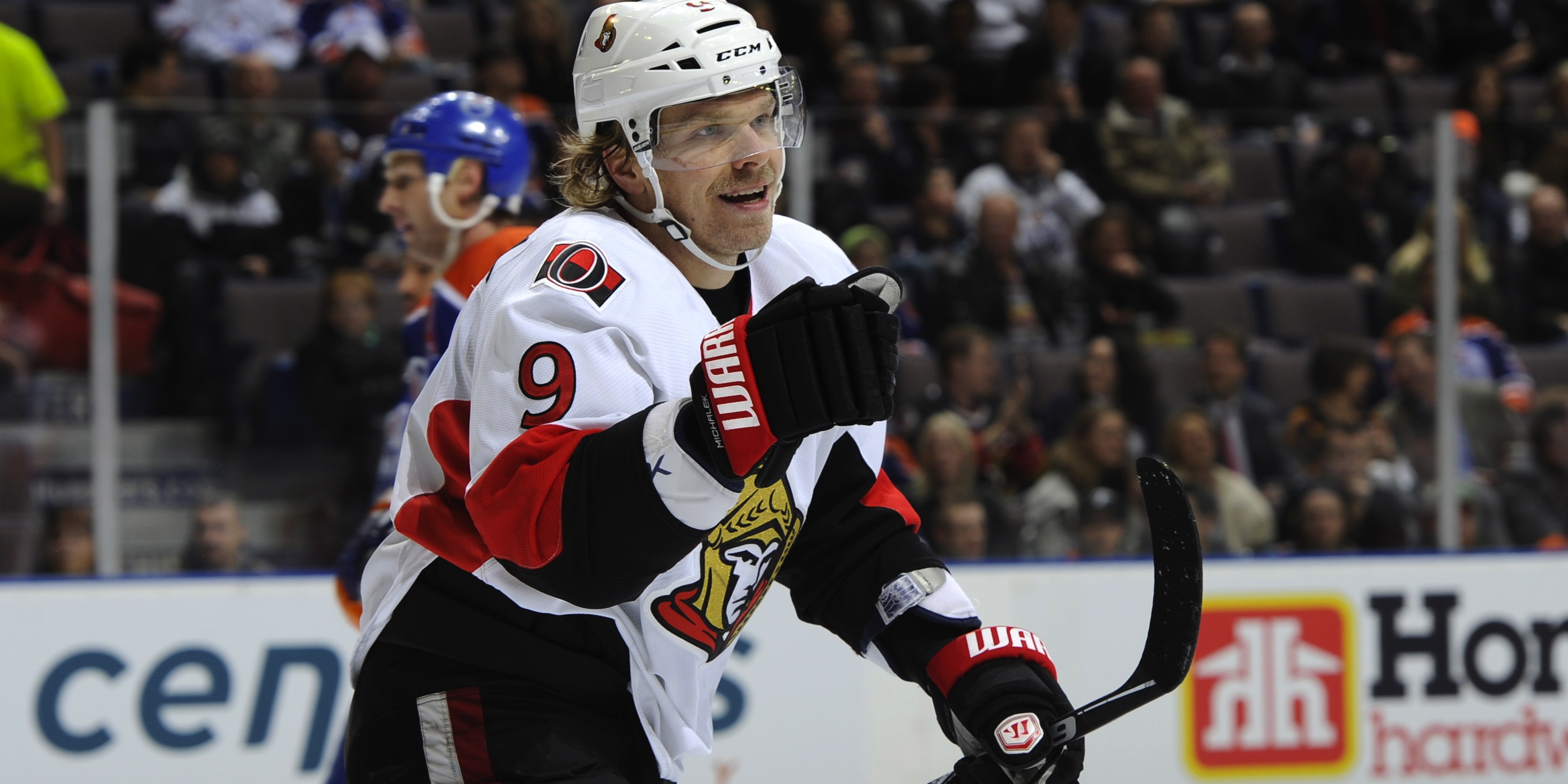 Pucks and Numbers: a weekly statistical look at what's happening around the NHL. This week: A look at the the fast start for Ottawa Senators forward Milan Michalek.

By: Adam Gretz

(Note: I started to prepare this Tuesday evening after Milan Michalek took over the NHL's goal-scoring lead, and before he was injured. It was announced on Wednesday that's he day-to-day with a concussion. I decided to go with it today anyway.)
Ottawa Senators forward Milan Michalek unfortunately became the latest player in the NHL to suffer a concussion during his team's 3-2 overtime win against the Buffalo
Sabres
on Tuesday night when he collided with his teammate,
Erik Karlsson
, in the second period. It had to be a tense moment for the Senators and their fans to watch as their two best players this season smashed into each other. It's the second time in a week that an accidental collision between teammates sidelined a top-scorer with a concussion, as Philadelphia's
Claude Giroux
is currently out
after
Wayne Simmonds
hit him in the back of the head with his knee
over the weekend
.
Michalek's status for future games is still unknown at this point, and while the team currently has him listed as day-to-day, you simply never know with concussions. It could be a couple of games, it could be a couple of weeks, or it could be even longer.
Head coach Paul MacLean said on Wednesday that he didn't think it was going to ruin his season, which is good news. Hopefully, for his sake and the Senators, he's able to return to the lineup soon enough.
Before exiting Tuesday's game he did manage to add to his early season goal total, scoring his (as of Wednesday morning) league leading 19th goal of the season, pushing him past Toronto's
Phil Kessel
and Tampa Bay's
Steven Stamkos
.
It's been a magnificent start to the season for 27-year-old forward, and by far the best of his seven-year career. Through 31 games he's only seven goals behind his previous career best for a full season (26), and was on a pace to shatter that total assuming he kept producing at the same rate -- even if that were unlikely to happen, even before the injury.
Currently, Michalek is shooting at a 21 percent rate, a mark that few players have been able to top over a full season in recent years. Since the start of the 2005-06 season, only eight players that qualified for the league lead finished with a number that high, and pretty much all of them were single season outliers in each players career. And that's kind of what's happening for Michalek this season.
For his career, he is a 12 percent shooter, and his previous six individual seasons have all fallen between 10 and 13 percent. Like most players, he's been pretty consistent in that area.
How does his hot start compare to his previous seasons through the same number of games? Let's take a quick look:
Milan Michalek's Goal Scoring
Year
Goals (through 31 games)
Shots On Goal (31 games)
Shots Per Game (31 games)
Shooting % (31 games)
Full Season Shooting %
2011-12
19
88
2.80
21.5%
N/A
2010-11
7
63
2.00
11.1%
10.8%
2009-10
15
85
2.74
17.6%
13.5%
2008-09
8
75
2.41
10.6%
12.8%
2007-08
10
98
3.16
10.2%
10.3%
2006-07
10
76
2.45
13.1%
13.6%
2005-06
4
52
1.67
7.6%
10.7%
Obviously, this season stands out from the rest.
One of the factors that's gone into his increased production (both goals and shots) is that he's simply playing more than he has in recent years. Throughout his career, whether it's been with Ottawa, or his previous team, San Jose, he's typically averaged about 18 minutes of ice-time per game. This season he's up over 19 minutes, and not only playing more in even strength situations, he's also seen a small bump in his power play time.
But no matter what he's done through this many games, his single season shooting percentage has always regressed toward his career average of 12 percent, and unless he suddenly became the best sniper in the NHL in one offseason, that's probably going to happen again this year once he returns to the Ottawa lineup.
What could reasonably be expected from this point on? Well, if he were to play every game the rest of the way (and we already know that's not going to happen, as he's already out for Wednesday's game against Boston and is probably expected to miss Friday's game when the Senators host the
Penguins
) and maintained the same number of shots per game, and shot at his career level of 12 percent, he would still score an additional 17 goals this season. Even if he shot at the league average rate of 9 percent, that would be in the area of an additional 12 goals. Both of which would not only give him a new career high, it would shatter it. Either way, it's been a career year for him.
But before any of that happens or can continue, he and the Senators need to make sure he's 100 percent healthy and completely recovered before he returns to the lineup.

For more hockey news, rumors and analysis, follow @EyeOnHockey and @agretz on Twitter.