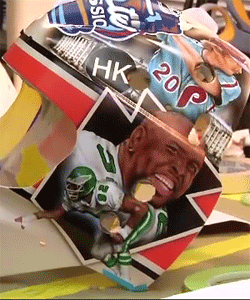 All Ilya Bryzgalov has to do is stop the puck more often than not to endear himself to the Philadelphia faithful. Or he could just make the most awesomest Philly-centric mask ever for the Winter Classic.
The Flyers goaltender who has already won legions of fans from the Legion of Doom faithful with his appearances on the debut of HBO's 24/7 is having a mask made just for the Classic. That's not unusual. In fact, it's commonplace. Henrik Lundqvist has his special mask ready to go.
The mask isn't completely finished in the video shown on the Flyers website, but it doesn't have to be to see how amazing it will be.
Bryzgalov's request for the design? He wanted it to showcase Philadelphia sports. So the top of the mask has the Winter Classic logo displayed prominently. On one side are images of Reggie White and Michael Jack Schmidt airbrushed on. The other side is still being worked on. It already has Julius Erving at the top and then it will have toothless Bobby Clarke below him. On the front of the mask is a banner that looks to be waving in the wind that just says "BRYZ" with the Philly Phanatic peeking his head around. Lastly, the back of the mask will feature a photo of Philly's boxing icon. No, not Rocky, but the late, great Joe Frazier.
The mask will only be worn once and after that it will be sold to charity. I can only imagine how many Philly fans will be trying to get their hands on this mask. It's pure awesomeness.
For more hockey news, rumors and analysis, follow @EyeOnHockey and @BrianStubitsNHL on Twitter.