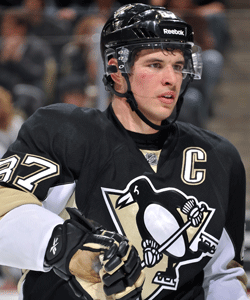 Sidney Crosby might not be playing for the Penguins right now, but he's still going to be busy in coming weeks.
The Penguins superster was just named by the International Olympics Committee as one of five ambassadors to the inaugural Winter Youth Olympic Games. The Games are going to be played in Innsbruck, Austria from Jan. 13-22.
"It's important that young athletes have the proper guidance and support in their early years," Crosby said. "I have always tried to lead by example and be a positive role model for people. I hope my involvement in the first Winter Youth Olympic Games can help inspire the athletes and motivate them to be the best they can be in everything they do, not only during competition."
Crosby will join American skiing star Lindsey Vonn, Austrian skier Benjamin Raich, French skier Kevin Rolland and Korean figure skater Yuna Kim as the ambassadors.
"We are delighted that Sidney has joined our all-star line-up of Youth Olympic Games Ambassadors," IOC president Jacques Rogge said. "He is one of the best hockey players of his generation, and his passion, dedication and determination are unmatched. He is also an athlete who understands the importance of living by proper values. Without question, the athletes at Innsbruck 2012 have a great role model in Sidney."
It's a nice honor for Crosby, a nice honor and probably will prove to be a rewarding experience for both the young competitors and Crosby himself. And the good news for Penguins fans is that Crosby won't be traveling to fulfill his duties, so it shouldn't impede his comeback efforts.
There has been very little information released on Crosby since he announced he was going to miss more than two games as a result of a return of post-concussion symptoms. Just in case you forgot, Crosby missed almost a year dealing with post-concussion syndrome before returning to play eight games before he was shut down again.
At least this might help him keep his mind off the frustration of his recovery.
Photo: Getty Images
For more hockey news, rumors and analysis, follow @EyeOnHockey and @BrianStubitsNHL on Twitter.