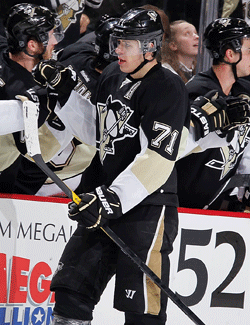 By: Adam Gretz
PITTSBURGH --
Evgeni Malkin
is back, and right now it looks as if the Pittsburgh
Penguins
are his team.
When
Sidney Crosby
returned to the lineup last month the discussion immediately focussed on whether or not he could win the NHL's scoring title, despite missing the first 20-plus games of the season. As it turns out, Malkin is the Penguins forward we should have been looking at all along.
Thanks to his three-assist performance during a 3-2 win over the Chicago
Blackhawks
on Tuesday, which came after a five-point destruction of the Buffalo
Sabres
over the weekend, Malkin moved into a tie for the top spot in the NHL scoring race with 39 points, catching Toronto's
Phil Kessel
, despite missing six games of his own.
Right now there isn't a more dangerous offensive player in the league, and it couldn't have come at a better time for the Penguins.
For the second year in a row the Pittsburgh roster has been crushed by injuries and on any given night has had some combination of Crosby,
Paul Martin
,
Zbynek Michalek
,
Jordan Staal
and
Kris Letang
, among many others, sidelined due to various ailments and injuries. Even with all of that, the team has a continued to pile up wins and stay near the top of the conference standings and have the look of a top Stanley Cup contender. Head coach Dan Bylsma certainly deserves a lot of credit for that, as does the Penguins front office, led by general manager Ray Shero, for having the type of organizational depth that allows the team to handle so many injuries to so many key players.
But it also doesn't hurt to have a player like Malkin, one of the most talented and skilled players in the world, that is always capable of taking over a game. And that's exactly what he's been doing for the Penguins this year. For much of this season he's been playing on a line with
James Neal
and free agent acquisition
Steve Sullivan
. When the Penguins acquired Neal last season it was done so under the assumption that he would eventually be the goal-scoring winger the Penguins have long been searching for to put alongside Crosby. But with Crosby missing so much time due to injury, Neal has found a home on Malkin's line, and along with Sullivan, have formed a trio that has been Pittsburgh's best on a nightly basis.
"I thought his line in particular, I know Geno is the big guy on that line, but their line played very well in the first," said Bylsma after Tuesday's game. "They attacked in every chance they got over the boards at 5-on-5, and on the power play. They were putting pucks behind and playing in the offensive zone and on the attack."
A couple of years ago Malkin was one of the players consistently mentioned in the "best player in the world" discussion, along with Crosby and Washington's
Alex Ovechkin
. He won the scoring title during the 2008-09 season and then followed it up with a Conn Smythe performance in the postseason as the Penguins won the Stanley Cup, defeating the Detroit
Red Wings
in seven games.
But over the past two seasons his production dropped a bit, perhaps due to lingering injuries, and then he missed the last half of the 2010-11 campaign, as well as the playoffs, due to a knee injury that he suffered when Buffalo's
Tyler Myers
awkwardly fell on his leg during a game last January. Because Malkin has always played second chair in Pittsburgh to Crosby, the face of the franchise, his name has always been the one that's been brought up in absurd trade rumors and baseless speculation for a wide range of reasons (I've brought this up before, but just google "Evgeni Malkin Trade" and start reading), including but not always limited to salary cap concerns, the need to acquire a goal-scoring winger, and, well, pretty much anything that anybody could throw against the wall in the hopes that it would stick. It never did, and for good reason.
Even though Malkin is the "No. 2" center in Pittsburgh (it's probably more of a 1A and 1B deal) when the team is at 100 percent, he has always had a knack for elevating his game when Crosby is out of the lineup. He did it during the 2007-08 season when Crosby missed extended time due to an ankle injury that came after he fell into the boards, and he's doing it again this season. On a per-game average he's actually scoring at a higher rate right now than he was during the '08-09 season when he won his Art Ross Trophy.
"Geno has been a force offensively," said Bylsma on Tuesday. "But he's also a guy we're counting on to play against other teams top lines right now, and he's been good at both ends of the rink. He's been powerful and making plays and driving. He's going to have probably 10 scoring chances again with how he's dominating and how he's playing."
Photo: Getty Images
For more hockey news, rumors and analysis, follow @EyeOnHockey and @agretz on Twitter.