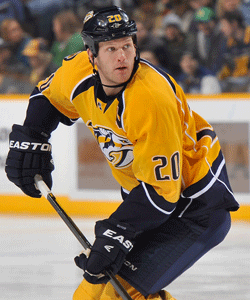 WASHINGTON -- There's a certain young defenseman who plays in Nashville that gets a ton of praise. He also just got a ton of dough and will surely get more this offseason with what is shaping up to be a season worthy of another Norris Trophy nomination.
He is Shea Weber, without a doubt the biggest star skating in a Nashville Predators jersey. His booming slap shot is a thing of legend. Didn't you that one about how you can hear it breaking the sound barrier?
Weber, no doubt is excellent and deserves all the accolades that come his way. In addition to his strong defensive play, he is also tied with a few of his teammates for the team's leading goal scorer this season with eight. It's almost a case of no such thing as being too much praise.
My only problem with all of that is how it takes away a lot of attention from one of Nashville's other young and supremely talented defensemen, Ryan Suter.
The chances of it happening are remote, but if there were two teammates in today's NHL that could be named finalists for the same award it would be Weber and Suter in the Norris discussion. That's because this season is going as well or maybe even better than any of Suter's six other seasons with the Predators -- offensively speaking he has five goals and 16 assists already.
"It's going good," Suter said. "The main thing is our team, how our team plays. We've been playing well; we're kind of up and down. But when we're on our game we're playing good and it's fun to be out there."
They have been on that up side as of late. Before losing 4-1 to the Washington Capitals on Tuesday night, Nashville had won five games in a row. The confidence was growing again for a team that made it to the second round of the playoffs last season and had every intention of keeping that franchise momentum moving this year.
Of course, a large part of continuing what they have begun in Nashville is getting the star players under contract beyond this season. They already took care of that with goaltender Pekka Rinne, signing him to a monster seven-year deal. But that still leaves Weber and Suter.
In the case of Weber, the Preds still have a little control as he will be a restricted free agent this summer, just like he was last summer when he received the biggest arbitration settlement in NHL history. But much the case with his attention as a player, Suter's situation seems to be a little overshadowed by his All-Star partner.
There are a lot of people who doubt that the Predators, operators for a long time on a budget in line with the NHL's lowest, will be able to sign all three to the deals they will command. So that leaves a lot of people believing Suter is the odd man out. Personally speaking, I believe the Predators can and will do their best to keep all three players. One is already down.
It's sort of an elephant on the season for the Predators, the contract situations. If neither Weber nor Suter is under contract come the trade deadline, GM David Poille will have some serious thinking to do. Does he want to risk seeing Suter, an unrestricted free agent, walk away for nothing in return? That quandary will haunt a GM.
But for now it's not bothering Suter much. Either that or he's just saying all the right things.
"You try not to think about the future, you just think about the present," Suter said regarding his contract situation. "You are just playing as good as you can and helping your team win. You're helping to get the young guys better. So far I think it's been going well."
In years past it would have been easy to write off the possibility of Suter returning to Nashville for another season. Let's be honest, Tennessee didn't exactly scream attractive NHL market. But the market in Nashville is proving what a little winning can do for any non-natural team (except Phoenix, unfortunately): increase the popularity.
"It really is [becoming a good hockey market]," Suter said. "The fans get better every year. They get -- I don't know how to say it -- more educated I guess. It gets bigger and bigger every year. The ownership group is doing a great job getting fans in the building."
The fans in Smashville, as they like to call it, have turned Bridgestone Arena into one of the tougher venues to play at in the league. Part of that is the sea of mustard yellow both on the opposing jerseys and in the stands, but it's also the atmosphere.
One way you can tell how excited and hockey smart the city is becoming is just to peruse the blogosphere. There is no shortage of ways you can find information on the Preds.
"It all comes back to us winning," Suter acknowledged. "If we continue to play well at home and on the road and continue to get wins, then it's going to be a fun year."
They sure hope so in Nashville. But nothing would make for a fun year more than keeping Suter and Weber around to ensure many fun years to follow.
Photo: Getty Images
For more hockey news, rumors and analysis, follow @EyeOnHockey and @BrianStubitsNHL on Twitter.