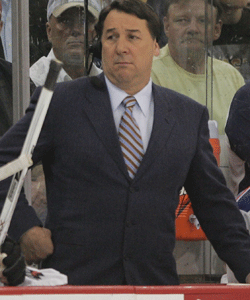 Charges against NBC Sports and CBC analyst Mike Milbury were dropped by a court in Brookline, Mass on Friday.
The former Bruins player and coach who later became the Islanders general manager had been charged by Brookline police with assault and battery on a 12-year-old player. The accusation stemmed from a game in which Milbury's son was playing and just as a fight was breaking out between his son and a player from the other team, Milbury stepped in and grabbed and yelled at the other player.
That's the part everybody agreed on, Milbury included. The accounts differed with how forceful Milbury was with the child, some saying the player was shaken before being dropped hard to the ice while Milbury contended he just grabbed the child's jersey and yelled.
But the charges were dropped as the clerk magistrate found there was no probable cause to bring the charges against Milbury.
"I am hoping this will absolve things, and I will get back to work in the next few days," Millbury said after Friday's hearing. "At this point, I am just thankful that the court ruled this way, and I am going to go home and get my voice ready to do some caroling."
Milbury later released a full statement that shared a little more his relief at the magistrate's decision.
"My family and I are gratified that the clerk magistrate found no reason to further investigate the incident at Larz Anderson Park two weeks ago when I separated two 12 year old boys in a Pee Wee hockey game, one of whom was my son. I was a coach and supervisor on the ice that day when the scuffle broke out after the game had concluded and the referee had left. I know I acted responsibly to break up an altercation between two young boys in order to prevent potential injury to both. My actions were in no way inappropriate and I would take the same actions today if confronted with a similar situation in the future."
At this point there is no word whether or not his voice will also be getting ready to return to his analyst positions, but there's no reason to assume he won't. He's been on leave from those duties while dealing with these charges. As he said, he looks forward to getting back to work in the coming days, probably in time for the Winter Classic on Jan. 2.
I'm not surprised at the charges being dropped. The accounts of the incident were similar enough for me to believe the truth was pretty much all out there. If anything, I thought Milbury could receive some community service. Instead he leaves with what he has to take as a pretty big warning not to get aggressive with young players on the ice.
Photo: Getty Images
For more hockey news, rumors and analysis, follow @EyeOnHockey and @BrianStubitsNHL on Twitter.